While I do consider myself a New Yorker (we're going on our 10th anniversary in September!), truth be told I'm originally from Boston. Well technically Belmont, a little suburban town all of 15minutes outside of Boston. I don't really have a lot of Boston pride, except for when it comes to Red Sox-Yankee games, otherwise the only thing I think Boston has on us is cell phone service on the train. Don't get me wrong,  it's a great place to visit, I just wouldn't want to live there again.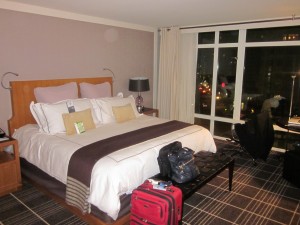 Although after a decade of trips home, only in the past month have I ever stayed at hotels (which is so unnecessary, especially since I think my dad's new house could qualify as a hotel). Although by doing so it's been a completely different experience. Last month I was at the Charles Hotel in Cambridge (for a wedding), and this past week at The Colonnade in Boston. This past trip has somewhat changed my stance that I maybe I could live in Massachusetts again if The Colonnade was my permanent residency.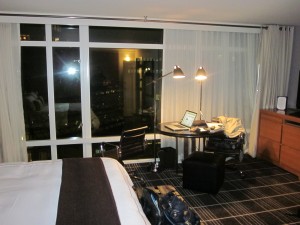 Call it an Eloise comlex, but the location is prime and I had a lovely room over looking the Prudential Center. I spent my mornings walking through Copley Place and Newbury Street sipping coffee and shopping like a champion. Then I would spend the rest of the day nestled up in my suite at the desk doing work. I've been taking on a lot of projects recently (some very exciting ones I can't wait to tell you all about) so I needed a week out of the NYC –void of distractions and events to play some serious catch up and clear my head.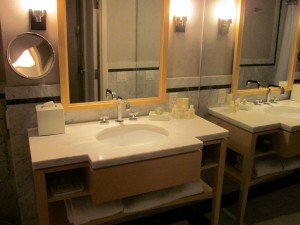 They had an intimate gym which I took advantage of every evening, and motivated me to consider joining one. I thought I wasn't a gym person but as it turns out I'm just not a commuting-to-a-gym-person. If it was in my building, I think I could change. Unfortunately, the Colonnade's infamous roof top pool wasn't open yet (not until Memorial Day). Oh well, there were plenty of other distractions and my room was oh so comfortable so I could deal.
Attached to the hotel is the Brasserie Jo restaurant (which also handles their room service). They have a very addictive French Onion Soup, and french bread role which is always served warm. The first morning there I ordered the granola with fruit and yogurt. It came with melon and grapes–I'm more into berries. In a series of adorable tweets (they saw me checked into their restaurant on Foursquare), I recommended they add more berries to their granola and sure enough by the next morning my granola was filled with strawberries, blueberries and blackberries! A+.