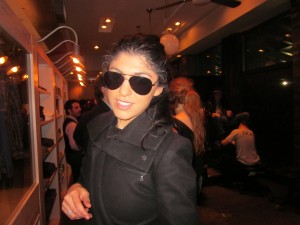 LES menswear designer, Robert James recently opened a pop-up shop of his By Robert James label in John Allan's in NYC. Have you ever been to John Allan's? It's a total club house, complete with billiards, cafe, gallery space and more notably a hair and nail salon complete with shoe shine services.
Prior the the announcement of the two combining forces, I had never even heard of John Allan's. Possibly because it's tucked away on a quiet street in TriBeCa and ever since the boys of SPiN moved out of their ping-pong partying apartment in that area, I find my nights there few and far between.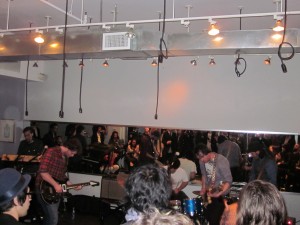 John Allan's is a very cool, large space and came to life as we celebrated the grand opening in style. The service salon definitely met style with the addition of the By Robert James' spring collection. Vodka drinks were flying and Caveman was performing, while a stylish and hip crowd took it all in and got ready to get down. I got distracted playing dress up with the great assortment of sunglasses. It felt like a full on loft party!
By Robert James will be available at John Allen's until July.
For more pictures visit the Pretty Connected Facebook Album