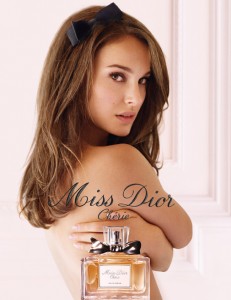 Dior has had quite a week! After a video circulated on Monday where apparently an inebriated John Galliano said, "I love Hitler", the designer was denounced by Dior ambassador Natalie Portman and later fired by Christian Dior.
Today the couturier, finally spoke out and said, "Anti-Semitism and racism have no part in our society. I unreservedly apologize for my behavior in causing any offence." Well good luck fixing this mess Galliano! It's such a tragedy that someone capable of so much beauty can be so ugly.
But the House must go on and I'm excited to share Dior's new campaign starring Natalie Portman as the new face of Miss Dior Cherie! Notice in the video the bow-tie that a very seductive Portman (baby-bump free) takes from the gentleman is the headband used in the print campaign. Tres chic!
And of course they didn't forget the swan!
Visit Miss Dior Cherie fragrances and take a tour of the campaign on Dior.com