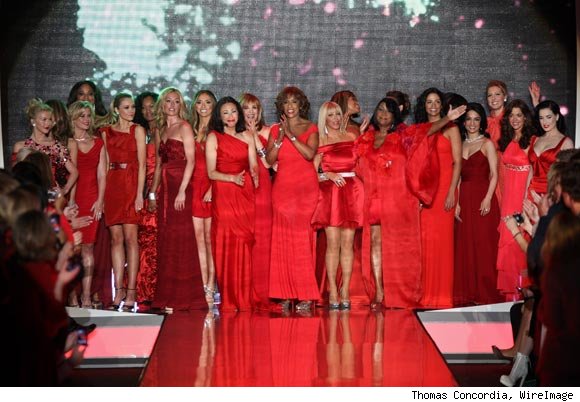 In all the printed materials, you'll see Mercedes-Benz New York Fashion Week listed as February 10-17.  However, it really opens the night before with The Heart Truth's Red Dress collection. It's the show that has celebrities and high profile women walk the runway in red dresses by various designers on behalf of The Heats Truth, a national awareness campaign that warns women about heart disease.
Lucky me, I started the evening backstage with sponsors Bumble and Bumble and Bobbi Brown who were doing the hair and makeup for the show and got a sneak preview of Suzanne Somers, Dita Von Teese, Giuliana Rancic, Eve, Camila Alves, Ann Curry, and Gayle King in their gowns!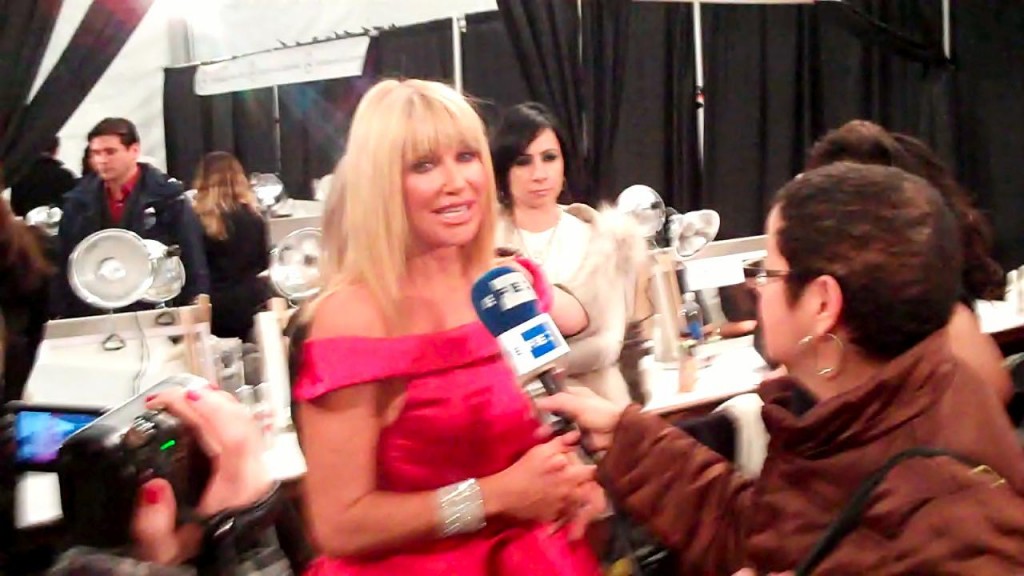 I was cheering on the inside when I saw Suzanne Somers–I've been watching her since Three's Company through her thighmaster infomercials, I think my excitement was warranted. Especially in her adorable Ina Soltani mini dress that poofed out. She's still got it!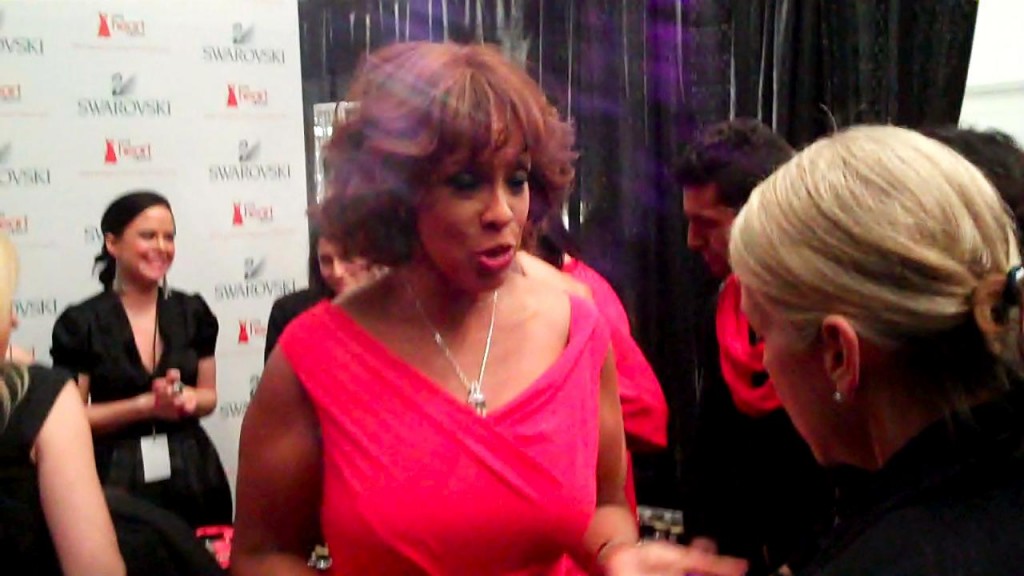 Gayle King! Yes, as in Oprah's Gayle!
Matthew McConaughey came backstage to support his girlfriend, Camila Alves (and walked right by me–why hello Matthew!).
Dita Von Teese showed off every amazing curve in Zac Posen.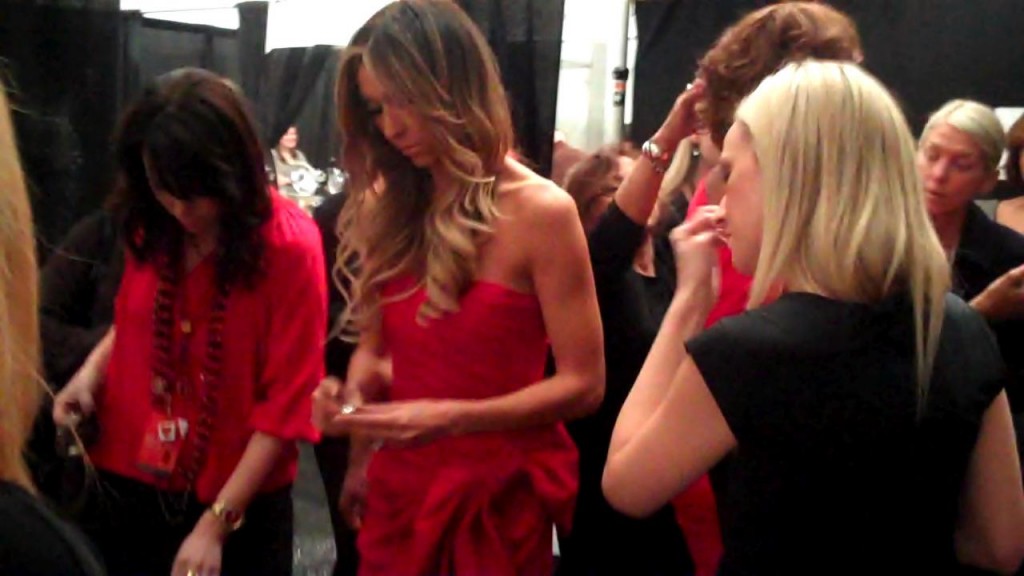 Giuliana Rancic spent some time backstage at the Swarovski table, trying on rings (they we're sponsoring the show).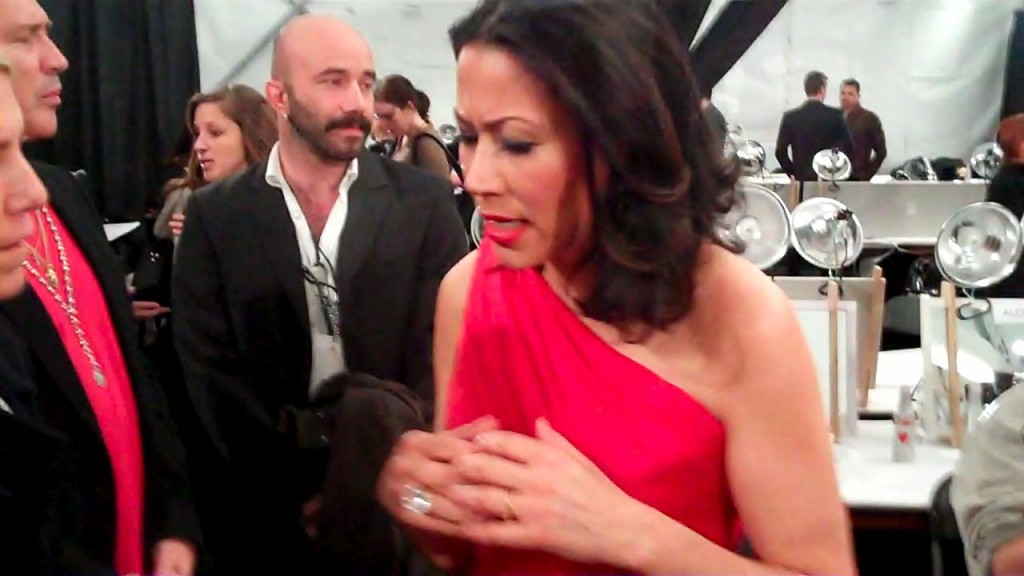 Then onto the show! I was seated in the Swarovski section (I was not appropriately accessorized), where I met my neighbors and redeemed myself by showing them my backstage pictures for a sneak preview of what they had to look forward to. Although even I didn't know what was in store… Natasha Bedingfield (in Nicole Miller) walked the runway then right before exiting the stage she was handed a microphone, and a man with a guitar comes out, and next thing we all know she's performing for us.
Good thing I brought my Flip camera!
In honor of The Heart Truth's, Bobbi Brown created a Limited Edition Heart Truth Creamy Lip Color Trio ($59) to help raise awareness about women and heart disease. Packaged in a box with the tagline "Listen to Your Heart", the collection includes lip shades Nectar, Blue Rasberry and Uber Pink. Only 500 sets are available and they are being exclusively  sold on bobbibrown.com. While I'm glad Bobbi Brown is getting behind the cause (she's sponsored the show for the past 6 years!), I do think it would have more impact if a portion of the proceeds we're donated back from this trio.
Speaking of sponsors, I'm a little baffled by Diet Coke being an official sponsor for this show. Before Natasha Bedingfield sang, over the loud speaker, they made a big announcement on how her performance was brought to us tonight by Diet Coke, and a complimentary bottle was put in our gift bag. Seriously? Soda is filled with chemicals and is terrible for your body and health and The Heart Truth's is advocating them? I don't get it.
Disclaimer: A complimentary sample Bobbi Brown's Heart Truth lip trio was given to Pretty Connected by a company representative and bottle of Diet Coke in the event's gift bag. Pretty Connected was under no obligation to write this review.