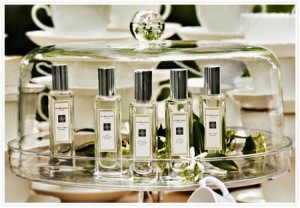 Would you like to have a tea party with Jo Malone? Yes, please!
Well come tomorrow, you can! Jo Malone is launching a collection of limited edition, travel-friendly Tea Fragrance Blends ($55). Inspired by British tradition (he's going back to his English roots), it was only proper he create three classic tea base fragrances –Assam & Grapefruit, Earl Grey & Cucumber and Fresh Mint Leaf followed by two additional scents; Sweet Lemon and Sweet Milk, which can either be worn alone or on top of the tea scents.
So how do you take your tea? I'm a mint girl myself, so I previewed the Fresh Mint Leaf fragrance, and for creativity sake added Sweet Milk on top. Apparently I take my fragrance exactly the way I do my tea –with nothing added (okay, sometimes I mix in lavender-honey, but that wasn't an option). The Sweet Milk was pleasant, but sweet –and since when do I like sweet fragrances? And although it wasn't my cup of tea (pun intended-I couldn't resist) it was pleasant and wearable (it had a hint of vanilla-almond to it). As for the Fresh Mint Leaf, it was crisp, clean and comforting. There's something so refreshing and calming about the smell of freshly-picked mint! Jo Malone did a great job of taking these unexpected scents and refining them into every-day fragrances.
Try them for yourself! Visit your local Jo Malone counter and have a tea sampling party. No RSVP required, just bring your neck!
UPDATE: Jo Malone is hosting an English Tea Service in honor of the launch of this collection. Enjoy complimentary pastries, sandwiches and of course, tea as Jo Malone expert, Shaun Rowan presents the new fragrances. Seating is limited so RSVP to the below counters to confirm your attendance.
Jo Malone Boutique @ Bergdorf Goodman 3/5. RSVP 212 872 8750
Jo Malone Shop @ Madison Avenue 3/4. RSVP 212 472 0074
Jo Malone Boutique @ Bloomingdales 4/2 RSVP 212 705 3646
Jo Malone Boutique @ Bloomingdales Soho 4/1 RSVP 212 729 5129
Disclaimer: A complimentary sample of Sweet Milk and Fresh Mint Leaf fragrances was given to Pretty Connected by a company representative. Pretty Connected was under no obligation to write this review.