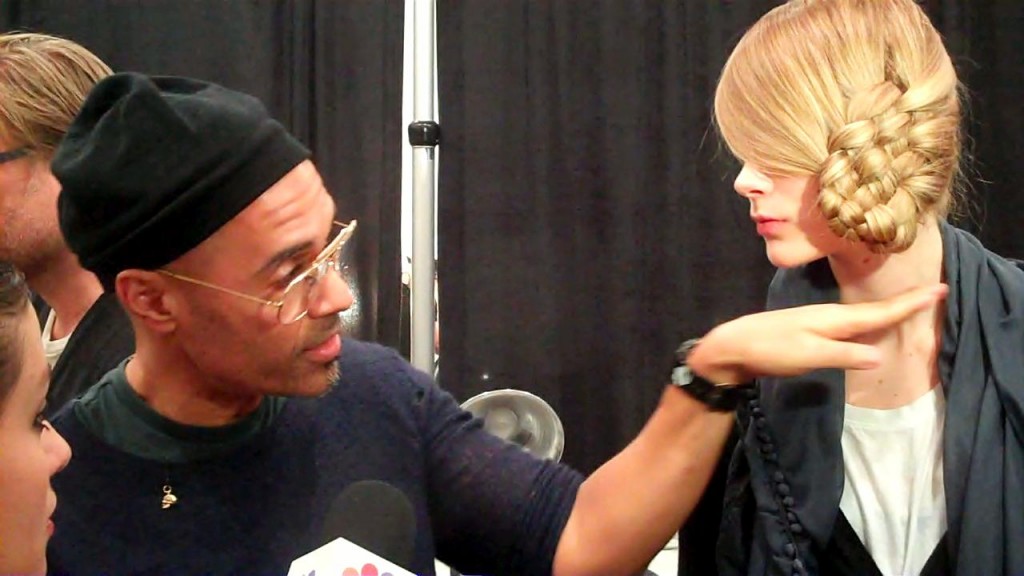 Of all the hairstyles I saw this season at Fashion Week, I'm giving the most creative award to Bumble and bumble for the Alexandre Herchcovitch Fall 2011 fashion show. Covering half the face, lead stylist, Rolando Beauchamp (for Bumble and Bumble) created a 6-way, side braid. Prompted by Alexandre Herchcovitch collection, which was inspired by violent forces of nature and circled around texture and layering. I mean seriously, is it just me or is this a masterpiece?
To show you what went into creating this look, I was able to capture a model having it done (alongside makeup and nails) in 15minutes! While that may be incredibly long for a YouTube video, it's remarkable this model was able to undergo all three so quickly. And no, having hair, makeup and nails done all at the same time is generally not practiced– this particular model ran late in between shows, so you get to witness the abridged version of what generally happens backstage.
As you can see it takes about 6 hands to create that braid (I would not try it at home without assistance), although the look is easily translatable to the everyday woman—with some modifications. Create a side part, then make a braid close to the base and tuck the end under the braid with a few pins.
The makeup you're seeing in the video is by Philippe Chansel for M.A.C. Cosmetics. The nail shade used is Kelly from Haven Spa for Zoya. Kelly was chosen since "it's is a really dark, rich gray with a hint of purple and blue in it. It goes really well with Herchcovitch collection because his collection is all about natural disasters and deconstruction which is exactly how to describe Kelly" said William, the nail stylist for Haven for Zoya.
After getting footage of the last model to get made up for the show, I dashed to front of the stage to watch the collection go down the runway. Enjoy the show for yourself!
As you'll notice from the video, Herchcovitch's collection really epitomizes the 'pops of color' trend we're seeing off the runway for the Fall 2011 season. He has hints of lime yellow/green amidst the grays and black used in his clothes and works with contrasting fabrics to create texture and dimension to his collection.
As for the bags, they went on sale exclusively on AHAlife.com right after the show –that's a nice twist. Why wait for a good thing?