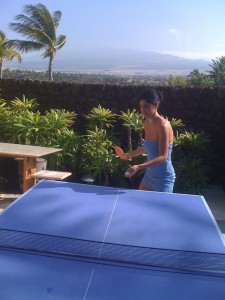 For any regular Pretty Connected readers you're probably aware of my love for ping pong and specifically the table tennis social club, SPiN New York (and their handsome owners). In fact I'm the first member of their club (I have a card that says '001' and everything!). And as their biggest fan I'm passing on an invitation for an event they are hosting tomorrow night!
When: Wednesday, January 19th, 6:30PM
Where: Museum of Natural History Milstein Hall of Ocean Life on the first floor. (Enter the Museum at 77th Street.)
As part of their crusade for endless ridiculousness (all in the name of ping pong) and places they aspire to play the sport consider yourself invited to come play with them at the American Museum of Natural History under the 94-foot Giant Blue Whale. It will be an evening focused on the science and skill of ping pong and to discover how the brain benefits from our favorite game.
Improve your skills with instruction by our SPiN Pros during free, open play and partake in a conversation with aficionados, including Susan Sarandon,  puzzle master Will Shortz, Wendy A. Suzuki, Professor of Neural Science and Psychology at NYU, and a few ranking champions in a short discussion moderated by Melanie Stiassny, Curator of Ichthyology at the American Museum of Natural History.
This event is free and open to the public with a cash bar. Click HERE to learn more.