What product can give you beautiful glowing skin, diminish fine lines and wrinkles, increases your energy level, and helps your overall health?
ANSWER: Water
So drink it, and lots of it! This winter has been brutal and oh so drying on the skin, that alongside a hydrating beauty regimen it's essential to drink a lot of water. Filtered is ideal, but if your tap is safe then fill those water bottles up keep some on you at all time.
For bottled water, I'm currently all about Icelandic Glacial water. It's sourced from a 4,500 year old volcanic spring and untouched by humans until you open the bottle. The water is so pure that Parfums Christian Dior has recently partnered with Icelandic Glacial to include the water in specific products that will launch next year. While I'm excited for the unveiling of this product, what I like about Icelandic Glacial is it's crisp, clean, taste. It's very refreshing!
Also, invest in a good water bottle. It's a great way to save money, protect the environment and keep you drinking all day. When choosing one, I prefer not to use plastic and ideally go with glass or aluminum/stainless steel containers.  Here are some of my favorites, but depending on if you carry it in your purse, car, when you're off to the gym or otherwise, it's important to pay attention to design, weight and size when picking the one that's right for you!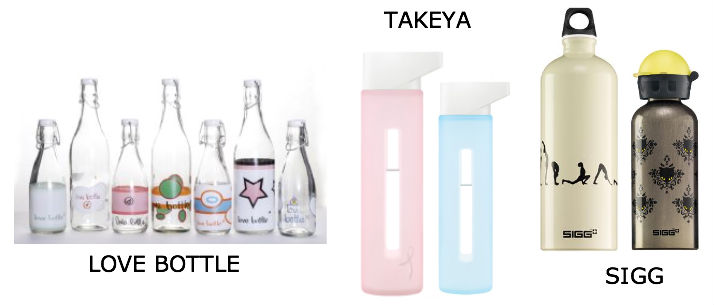 Love Bottle ($12-$18) – Environmentally sound, dishwasher safe and comes in a variety of whimsical labels, I love my Love Bottle! It has an old-school-milk-bottle type lid, which adds to its charm, but takes some getting used to –especially if you're used to a twist off cap. The only downfall is it's heavy, especially when filled with water. Although, the design is very solid and sturdy so I also enjoy using it as a vase since I don't have to worry about the weight of the flowers knocking it over.
Takeya Modern Glass Water Bottle ($19.99/16oz )– Modern and sleek, I really like the design of this bottle! It's BPA free and dishwasher safe with a silicone jacket which helps you grip the bottle and protect it. Additional styles/sizes/colors available.
SIGG ($24.99/34oz)– The Swiss brand that has been around for over 100yrs and are the aluminum water bottle kings. They have one of the most extensive collections of water bottles for kids and adults in a vast variety of sizes, patterns, styles, colors, lids…and everything in between. They use non-toxic finishes, and all of their EcoCare liners are BPA-Free and Phthalate-Free. SIGG for my sporty water bottle of choice; it's portable, lightweight and the caps are easy to open/shut while I'm on my bike, or exercising. TIP: Peal the label under the bottle off before putting it in the dishwater. That way you avoid that paper meets water debacle underneath your water bottle.
The other container I've heard good things about is Kleen Kanteen. I haven't tried it yet but they are supposedly another great lightweight, stainless steel alternative.
Disclaimer: A complimentary set of Icelandic Glacial water, Love Bottle, Takeya and Sigg water bottles were given to Pretty Connected by a company representative for consideration of a post. Pretty Connected was under no obligation to write this review.