As some of you may remember, it was almost a year ago when I was first posted about Starbucks VIA Ready Brew coffee ($2.95/3pack, $9.95/12pack). Starbucks was one of the sponsors at New York Fashion Week, and I was in between shows and in dire need of caffeine.  My options we're either their instant VIA coffee or one of their overly sweetened packaged drinks. Having only experienced instant coffee that tasted like watered down dirt, it was out of complete desperation that I tried the VIA Italian Roast, much less expected to drink the whole cup. To my surprise it tasted exactly like their regular brewed coffee—my mind was actually blown.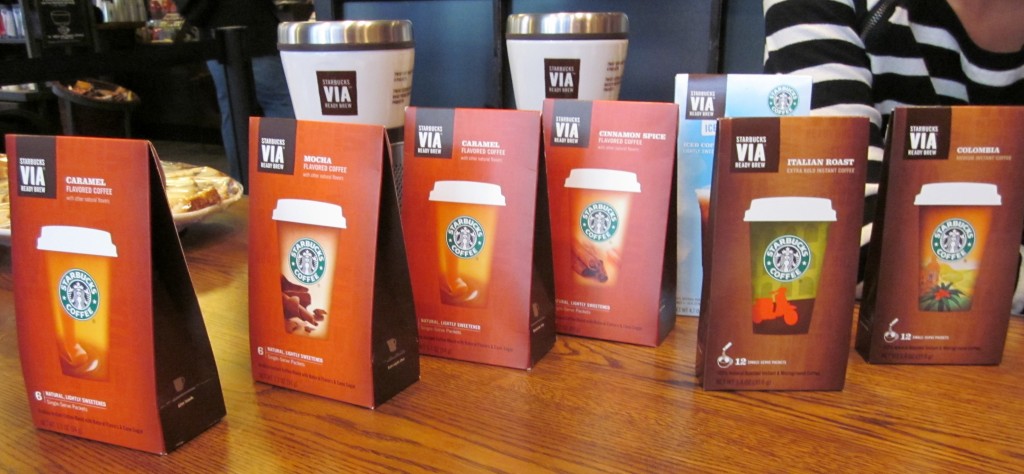 This month Starbucks launched their latest VIA flavor in French Roast. I had the pleasure of spending National Coffee Break Day (1/20) with them for an exclusive tasting and flavor profiles of each of the VIA varieties.  First off, VIA has come a long way since last year, they now offer an extensive range of flavors including Italian, Columbia, Vanilla, Mocha, Caramel and Cinnamon Spice, as well as a VIA Iced Coffee. It's no wonder they are the No. 1 selling packaged coffee globally. Although, that's not surprising considering how convenient they are. Made from 100% arabica beans French Roast is by far their darkest, boldest coffee (and delicious when paired with coffee cake). Similar, if not identical to their French Roast coffee, it has that smoky flavor and despite being one strong cup of coffee, it's surprisingly low in acidity.
For anyone that missed National Coffee Break Day, I vote we celebrate it unofficially (or officially) everyday!  It's amazing how taking some time away from work and just sitting with a friend and catching up can really boost your spirit and re-energize you.
Disclaimer: A complimentary set of Starbucks VIA in a variety of flavors was given to Pretty Connected by a company representative as well as an invitation to a private tasting for consideration of a post. Pretty Connected was under no obligation to write this review.