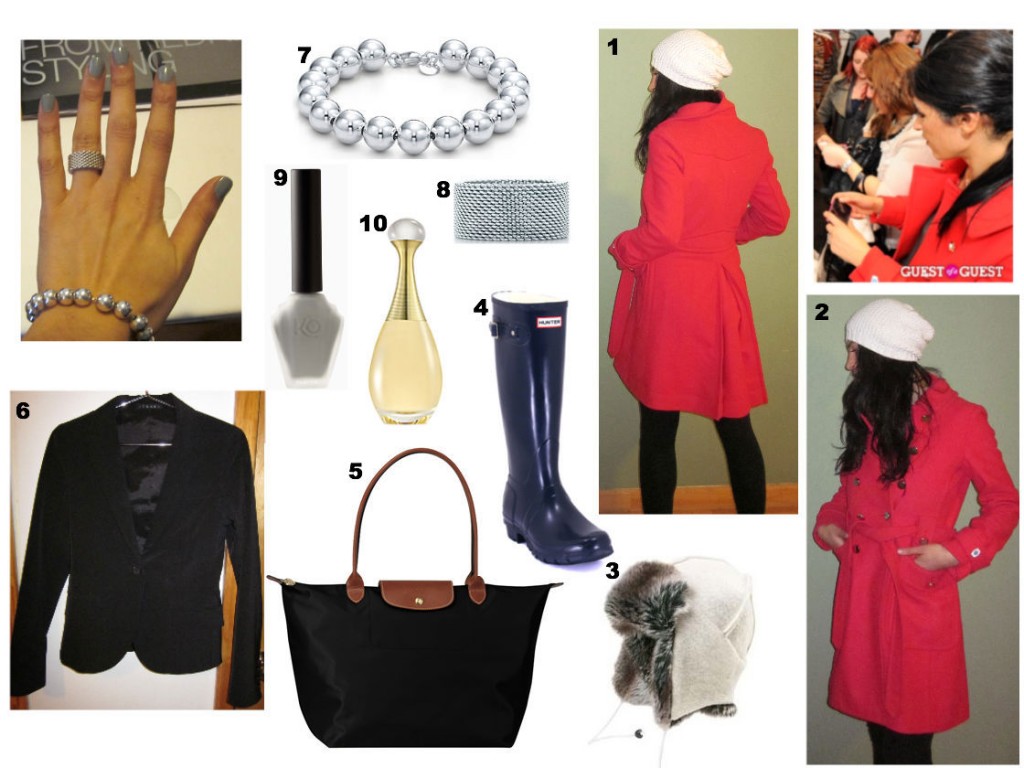 1. Marc by Marc Jacobs Coat in Red – $498 the one featured is no longer available
2. D&Y Cozy Crochet Beanie in White – $27
3. 66 North Kaldi Arctic Hat – $84
4. Hunter Original Tall Boots in Navy – $125
5. Longchamp Le Pliage Tote bag in black – $145
6. Theory Blazer in Black – $375 , the one featured is no longer available
7. Tiffany's Bead Bracelet – $185
8. Tiffany's Somerset Ring – $250
9. Knock Out Nail polish in Concrete – $14
10. Christian Dior J'adore Eau de Parfum – $59- $95
While I love to accessorize and get creative with my outfit choices (and makeup), there is something to be said about owning really great, quality basics that can be worn on repeat to build a variety of looks and outfits or be worn alone and look effortlessly chic.
A warm coat that fits and is made well, will go a long way in your wardrobe. I bought mine last year from Marc by Marc Jacobs (#1) and it still looks brand new.  Red has been huge this season and the shade I chose is a really happy one that works with my skin tone. No matter how disheveled I am, this coat instantly brightens me up and makes me look considerably more put together.
To compliment my coat, I opted for a crisp, white beanie from D&Y (#2). What I love about this knit is that it's not too tight like a snowboarder hat or too big like an oversized beanie and I it's light enough that I can carry it over into Spring.  For those really bitter cold days, I turn to my Kaldi Arctic Hat from 66 North –the Icelandic brand designed to deal with extreme weather conditions. And if it's good enough to keep Icelanders warm, then it can handle this New Yorker. And the lining is a really soft faux, which makes it oh so comfy.
Next up is the boots! I have an assortment –suede, leather, Uggs… in all different heights and sizes but my Hunter Original Tall Boots are my most essential. Rain or snow, nothing's getting through and I don't have to worry about ruining them. I've had many rain/snow boots in my lifetime; there are so many fun, patterned, cute ones on the market but most of them have fallen apart. I've had my Hunters for over four years and sure they're a little scratched up but they're still in great condition. I wear them with thick socks, but if your feet still get cold, Hunter sells Fleece Welly Sock inserts.
I have a few Longchamp bags, but my black Le Pliage Tote bag (#5) is my most versatile. It matches most everything and is great for travel, work or as a general everyday bag. And best of all you can fit endless amount of stuff in it and abuse it to no end and it still looks great.  And if it doesn't (generally the edges will fray over time), Longchamp will repair any bag for free no matter how old it is; no receipt needed or questions asked. Just bring it into your local Longchamp store (Emilio Pucci you could learn a thing or two from them –worst customer service ever!).
Now onto wardrobe staples! I could own endless amounts of black skinny pants, leggings, and blazers and just interchange fun tops, accessories and shoes to make different looks. In fact, that's pretty much what I do. While I have an easier time with finding the pants and leggings, it's finding a blazer that fit me well that I found challenging; until I found my perfect one at Theory (#6). I do own several other black jackets, but this is the one that fits the best and I wear to nauseam. There's just so much that can be done with it to dress it up or down.
As for jewelry, I suppose going for Tiffany's is a bit of a cliché, but there's something so timeless and elegant about some of their silver pieces. My favorites are the Bead Bracelet (#7) and Somerset Ring (#8). Don't get me wrong I have a lot of funky, statement accessories as well, but if my outfit is loud or classic, it's great to have some simple silver jewelry that will never go out of style to have on hand (literally).
I think it's important for every woman to have a signature nail polish and scent. Okay maybe important is a little overstated, and it's not like you shouldn't deviate regularly, but if you find a fragrance or nail color that works with your skin tone and matches the majority of your wardrobe palette make it part of your look. Mine is Knock Out Nail Polish in Concrete (#9). From events to the waitress at my local diner, I'm always getting compliments on the shade. For it to make such a splash, makes me feel like I'm wearing something very original that works for me. Part of the allure is how popular gray shades have become, the other is that it's matte. Switching from a glossy finish to a matte was an adjustment for me. I noticed certain shades that didn't work for me in one form, do in the other (and vice-versa). KnockOut sells a very cool top coat called 'Flatte Top'. It instantly takes out any shine from the shade of nail polish you're wearing and converts it to matte. It's really fun, and I recommend playing with it if you're thinking about entering the world of matte. And while I have a lot of fragrances on my mantle, Dior's J'adore Eau de Parfum is my go to. It's so subtle and feminine with notes of Mandarin, Champaca Flowers, Ivy African Orchid, Rose, Violet, Damascus Plum, Amaranth Wood and Blackberry Musk. It makes me feel confident when I put it on and like my outfit is complete. And I think that's the most important thing when choosing a fragrance.
So figure out what you're missing in your wardrobe, or the pieces you wear the most and capitalize on that. Invest in those quality basics that fit well and make you feel good about yourself.  These days it feels like the world is coming to an end, and everything's on sale, so it's easy to settle for a knock off version of something you wanted just because the price is right, or you're having difficulty finding the perfect style. But don't settle! Especially if you end up not wearing the majority of these impulse purchases because it wasn't quite what you wanted. And if you find yourself with a lot of past clothing items still in your closet with the tags on, or that you haven't worn in years, it's time to get rid of them. A new year is upon us and it's time to trim the fat.
Disclaimer: A complimentary sample of Knock Out nail polish, Christian Dior J'adore Eau de Parfum, D&Y Cozy Crochet Beanie, 66 North Kaldi Arctic Hat was given to Pretty Connected by a company representative. Pretty Connected was under no obligation to write this review.