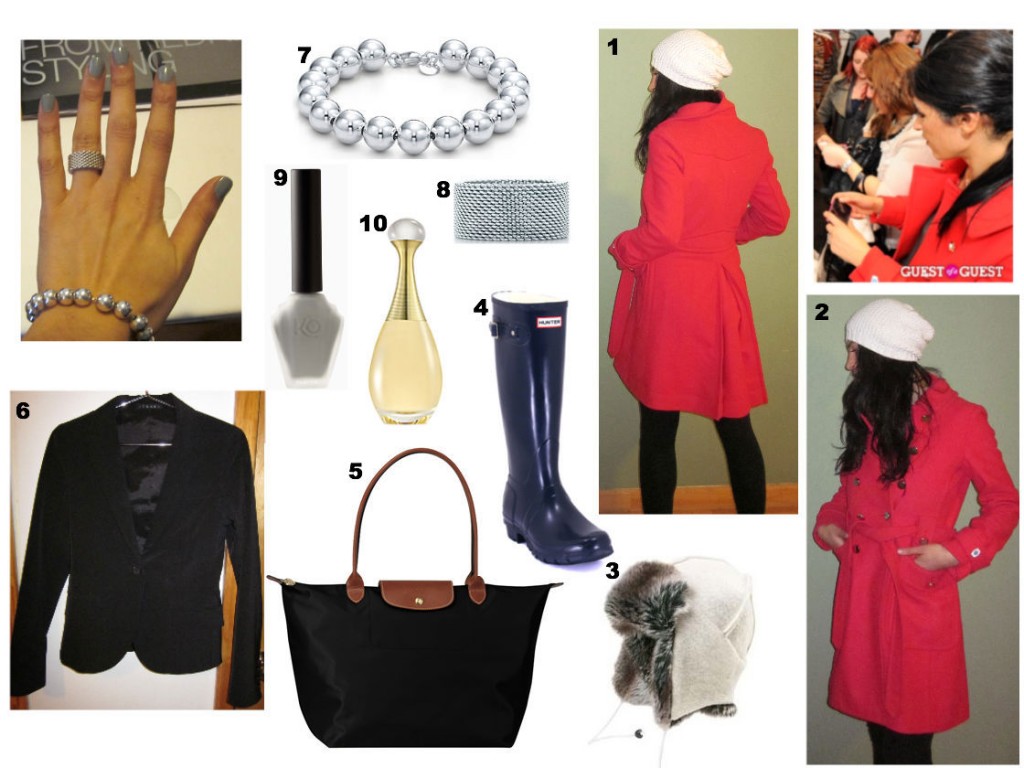 1. Marc by Marc Jacobs Coat in Red – $498 the one featured is no longer available
2. D&Y Cozy Crochet Beanie in White – $27
3. 66 North Kaldi Arctic Hat – $84
4. Hunter Original Tall Boots in Navy – $125
5. Longchamp Le Pliage Tote bag in black – $145
6. Theory Blazer in Black – $375 , the one featured is no longer available
7. Tiffany's Bead Bracelet – $185
8. Tiffany's Somerset Ring – $250
9. Knock Out Nail polish in Concrete – $14
10. Christian Dior J'adore Eau de Parfum – $59- $95
While I love to accessorize and get creative with my outfit choices (and makeup), there is something to be said about owning really great, quality basics that can be worn on repeat to build a variety of looks and outfits or be worn alone and look effortlessly chic.
A warm coat that fits and is made well, will go a long way in your wardrobe. I bought mine last year from Marc by Marc Jacobs (#1) and it still looks brand new.  Red has been huge this season and the shade I chose is a really happy one that works with my skin tone. No matter how disheveled I am, this coat instantly brightens me up and makes me look considerably more put together.
To compliment my coat, I opted for a crisp, white beanie from D&Y (#2). What I love about this knit is that it's not too tight like a snowboarder hat or too big like an oversized beanie and I it's light enough that I can carry it over into Spring.  For those really bitter cold days, I turn to my Kaldi Arctic Hat from 66 North –the Icelandic brand designed to deal with extreme weather conditions. And if it's good enough to keep Icelanders warm, then it can handle this New Yorker. And the lining is