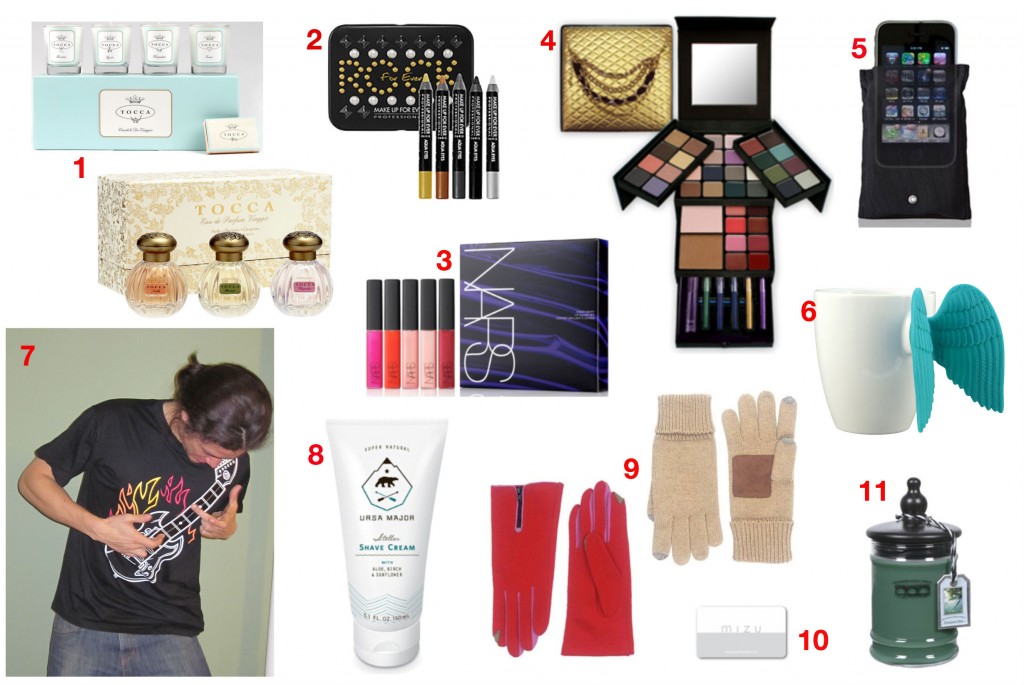 Okay so it's the final weeks before Christmas, Hanukkah ends tomorrow so if you're looking for some gift inspiration, here are some great gifts for everyone on your list.
1. Tocca Gift Sets – Eau de Parfum Viaggio ($45) gift set includes three of their signature fragrances Stella, Florence and Cleopatra in miniature size, and Candele Da Viaggio ($42) box set includes an assortment of four travel size candles including Cleopatra, Grave, Havana and Kyoto.
2. MAKE UP FOR EVER Rock For Ever Aqua Eyes – $36 ($49.50 Value). Set includes five travel size Aqua Eyes pencils in shades Gold, Bronze, Dark Grey, Mat Black  and Silver.
3. NARS Cosmetics – Follow the Boys Lip Gloss Coffret – $40 ($48 Value). Set includes four medium size glosses in shades Turkish Delight (Pink Sorbet), Moon Fleet (Sparkling Platinum Gold), Easy Lover (Ultra Sheer Hot Pink) and Sweet Revenge (Sheer Pink Grapefruit).
4. Tarte The Jewelry Box $52 ($637 Value). This combination set includes 32 eye shadows, 8 lip glosses, 5 eyeliners, a mineral powder bronzer and highlight powder in soft pink all, which opens and folds to condense into a compact jewelry box.
5. Cellies ($35) – Fashionable stretch cuff bracelet that carries your cell phone so you don't have to. They have a terry version perfect for working out, and a collection of decorative studded ones in pink and black to wear as a fashion accessory.
6. Pylones Mug Angel Wings – $25.  This mug is available in colors: blue (featured), red, lime, black, pink and orange.
7. ThinkGeek Electronic Rock Guitar Shirt – $29.99. Complete with mini amp this interactive t-shirt has a fully playable guitar built into the t-shit. Available in ADULT (men's) size S-XXL and KIDS sizes S-L.  There is also a Drum, Synthesizer and Personal Soundtrack version of this shirt. Can you imagine walking into a room with a theme music, that's pretty cool. These shirts literally rock!
8. Ursa Major Men Stellar Shaving Cream – $21. The latest shaving cream to hit the market, both luxurious and natural, it protects against razor burn and is free of sulfates, parabens, DEA, synthetic fragrance and color. Good for 60+ shaves.
9. Echo Touch gloves – Woman's Echo Touch Glove With Zipper ($32) and Men's Cashmere Echo Touch Glove ($78).  High quality gloves with eLink fabric on the index finger and thumb, which can interact with touch screen devices (now you don't have to take your gloves off to play with your iPhone, iPod or iPad. Available in a variety of colors, styles, and fabrications for woman's, men's and kid's. Prices range from $20-78.
10. Mizu Gift Card – Mizu is one of my favorite hair salons and makes a great 'mother-daughter' gift, or gift for someone in need of updating their look. They offer a variety of treatments and services plus an extensive line of products and gift sets from brands Bumble and Bumble, Moroccanoil, Sumo Tech, Oribe, Davines, and Sojourn Thermal. They currently have some great specials as well in their NYC and Boston locations.
11. Bridgewater Small Jar Candles – $13 – Bridgewater has an extensive line of natural soy blend candles in a variety of scents. For every one sold, Bridgewater donates money to the organization Rice Bowls to feed one orphaned child for a day. Candles burn for 65-85 hours.
Disclaimer: A complimentary sample of the Tocca sets, MAKE UP FOR EVER set, Cellies, Electronic Rock Guitar shirts, Echo Touch Glove, Bridgewater candles were given to Pretty Connected by a company representative.  Pretty Connected was under no obligation to write this review.