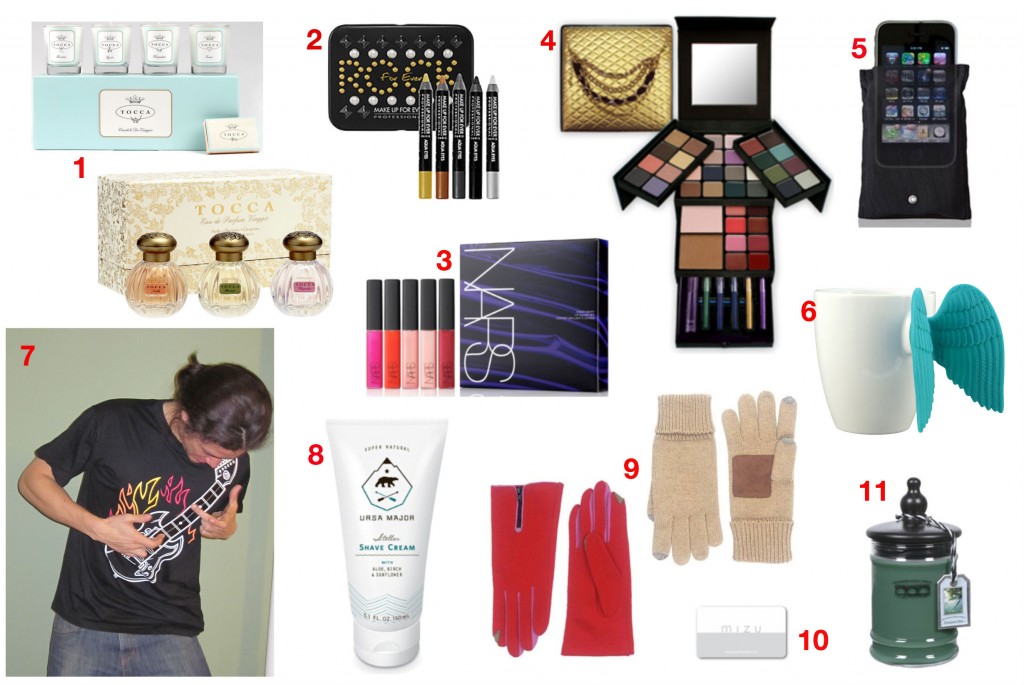 Okay so it's the final weeks before Christmas, Hanukkah ends tomorrow so if you're looking for some gift inspiration, here are some great gifts for everyone on your list.
1. Tocca Gift Sets – Eau de Parfum Viaggio ($45) gift set includes three of their signature fragrances Stella, Florence and Cleopatra in miniature size, and Candele Da Viaggio ($42) box set includes an assortment of four travel size candles including Cleopatra, Grave, Havana and Kyoto.
2. MAKE UP FOR EVER Rock For Ever Aqua Eyes – $36 ($49.50 Value). Set includes five travel size Aqua Eyes pencils in shades Gold, Bronze, Dark Grey, Mat Black  and Silver.
3. NARS Cosmetics – Follow the Boys Lip Gloss Coffret – $40 ($48 Value). Set includes four medium size glosses in shades Turkish Delight (Pink Sorbet), Moon Fleet (Sparkling Platinum Gold), Easy Lover (Ultra Sheer Hot Pink) and Sweet Revenge (Sheer Pink Grapefruit).
4. Tarte The Jewelry Box $52 ($637 Value). This combination set includes 32 eye shadows, 8 lip glosses, 5 eyeliners, a mineral powder bronzer and highlight powder in soft pink all, which opens and folds to condense into a compact jewelry box.
5. Cellies ($35) – Fashionable stretch cuff bracelet that carries your cell phone so you don't have to. They have a terry version perfect for working out, and a collection of decorative studded ones in pink and black to wear as a fashion accessory.
6. Pylones Mug Angel Wings – $25.  This mug is available in colors: blue (featured), red, lime, black, pink and orange.
7. ThinkGeek Electronic Rock Guitar Shirt – $29.99. Complete with mini amp this interactive t-shirt has a fully playable guitar built into the t-shit. Available in ADULT