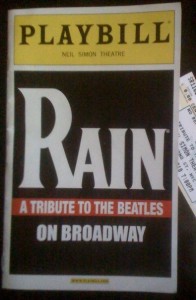 I consider myself a Beatles fan; correction, I am a Beatles fan. Growing up, it was a musical compromise between my parents and myself and would often be played in my house. I remember going to my friend's 9th Beatles-themed birthday, and being envious I didn't think of that first –although I didn't know nearly as many of the words or songs that she did so only fair.  That and everyone really got into dancing around to Yellow Submarine, which always made me feel like a traitor –I confess, I do not like that song.
One of the many perks of having a friend that works in television is seeing his name show up on my caller ID and upon picking up, hearing 'Lar- what are you doing at tonight at 7pm, I have an extra ticket to…'.  That's generally the part where I say I'm free and then try to weasel out of an event. In the case of an extra ticket to 'Rain: A Tribute to The Beatles On Broadway', I have to say I was pretty excited.
Here's What to Expect: 3 generations of audience members, with a crowd of embarrassed (but equally enthusiastic) 14yr olds watching their parents let loose, to the single man in his mid-50s watching the show as if he was back in the 60s, using his program to drum along; and inevitably a woman in her 40s proving to all of her friends that she knows all the words by chiming in at every song.  Under normal circumstances any one of these things would annoy me while trying to enjoy a show; however, it was all in such good fun and mutual appreciation for The Beatles, that it was rather endearing to be in such a diverse room of people and know we all shared something in common.
Don't Expect: a story or insight into the men behind The Beatles. In true tribute band form, this show is one long concert that takes you through the decades of their performances, costumes, facial hair and of course the progression their songs. Each set is broken up by short video clips of historical footage, prominent (non-Beatles) songs of the decade and vintage commercials (my favorite being for PrellShampoo and the one where a girl is having her friend iron her hair to make it straight).
A tailored assortment of songs, performances included Sgt. Pepper's Lonely Hearts Club Band, Twist and Shout, While My Guitar Gently Weeps, Yesterday, and I won't spoil the big closer but it's a classic (naturally).  To my enjoyment, what it does not include is Yellow Submarine. Having not listened to an abundance of The Beatles in the past decade, I was pleased to have known the majority of the songs (and genuinely surprised to recall all the words). And for the ones those that were familiar but I didn't know well at all (When I'm Sixty-Four) it was still fun to watch the die-hard Beatles fans light up and sing along.
The actors resemblance (especially Paul McCartney), coupled with perfect execution of a song really made for an electrifying experience –especially when realizing this is the closest I'm ever going to come to the real thing (or at the very least their Shea Statium performance). Other songs we're slightly off key. To me, the show was all about the costumes, lights, graphics and of course the music; as experienced with three generations of Beatles fans.  If I had to give the show an overall rating it would likely be 3.5 stars out of 5. Depending on the song, you'll go from sitting quietly in your chair and listening to standing up singing at the top of your lungs and dancing around without feeling the least bit self conscious. It's a good feeling.
Rain: A Tribute to The Beatles is now playing through Januarly 9th at the Neil Simon Theatre at 250 West 52nd Street.  Running time 2 hours 20 minutes (plus intermission). For more information visit http://www.raintribute.com/