Let the holiday gift guides begin! Here are some fun, silly gifts for adults and kids all for under $10. They also make for a great stocking stuffer!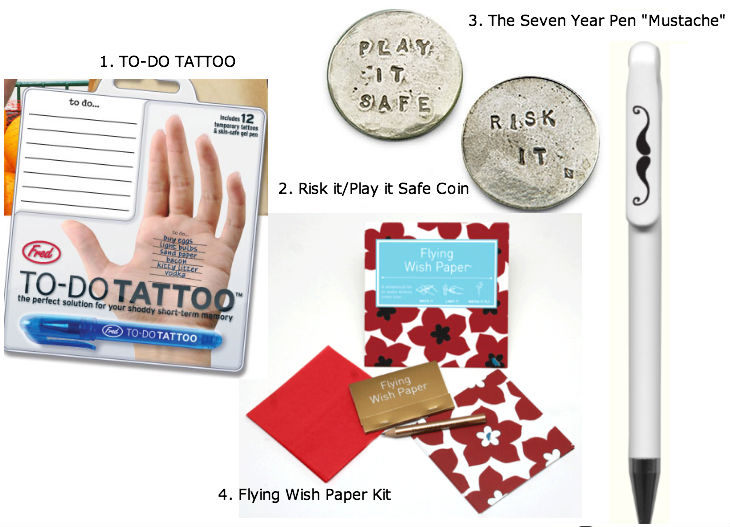 1. TO-DO TATTOO ($7)– I found this at the infamous Powell's bookstore in Portland, Oregon. A temporary tattoo to do list, complete with skin-safe gel pen. Peel it on, then use the pen to write out your to do list. Perfect gag gift (or practical gift in my case) for all your disorganized, flaky or plain forgetful friends. Each pack comes with 12 'to do…' tattoos, perfectly sized to fit in the palm of your hand, although I generally stick them on my arm. For more information visit worldwidefred.com
2. Risk It/Play it Safe Coin ($4)– It's genius! A silver, rustic looking coin that on one side has 'RISK IT' imprinted on it and on the other 'PLAY IT SAFE'. For all those moments in question, now you can just flip a coin and leave it to fate. This is somewhat an iconic gift I give to the very special men in my life –who may or may not happen to make reckless or irresponsible decisions, and need a little voice of reason.  I like to think that voice of reason is I; wrapped up in their wallets, which they carry around with them always. This gift never disappoints. For more information visit http://mightygoods.com
3. The Seven Year Pen in "Mustache" – This pen comes in a variety of patterns, I'm partial to the mustache one since I think it's funny. Plus it's so fun to hold it up to your face. Black ink, medium tip, these Swiss pens are designed to last seven years (if you write an average of two meters a day). For more information visit seltzergoods.com
4. Flying Wish Paper  Kit – This comes in two sizes Large Wishing Kit (50qty 7" x 7" wish sheets, $15), and Mini Wishing Kits (15qty 4 ¾" x 4 ¾" wish sheets, $9).  This is a great gift because it's something you can do with whomever you're giving it to and is appropriate for all ages, most holidays, and even milestones like applying to colleges, a new job or starting a business. Here's how it works: you write your wish on a sheet of the provided paper, fold it so it creates a rectangular shape, and set it on fire! Just when you think it's going to burn your apartment down it flies up and disintegrates into thin air. Although, it may sound scary, my friends and I have made a lot of wishes and my home is still intact. Plus there's something very whimsical and romantic about making wishes and watching them fly (and dissolve). I don't think my description is doing the coolness of this gift justice, so visit their website and watch the clip on how it works. It's even a great gift for someone going through a breakup or tough time (how often can you say that?), so ditch the voodoo doll, and try this instead. For more information visit flyingwishpaper.com
Disclaimer: A complimentary sample of the Flying Wish Paper was given to Pretty Connected by a company representative.  Pretty Connected was under no obligation to write this review.