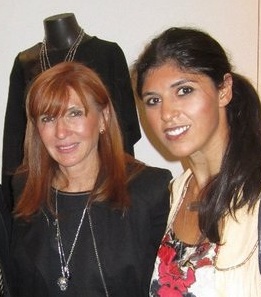 Everything changes in a New York minute, one second it seems like summer and the next it's suddenly fall.  All this talk about Spring 2011, has really postponed my urge to transition my wardrobe for the new season.
Newly back from New Zealond Fashion Week (where she was the guest of honor), I had the pleasure of joining Nicole Miller in her SoHo store for a tour and chat about her latest sportswear collection.
Inspired by New York (the streets, lights, graffiti…), this collection is everything I need to gear up for fall and get back in the NY groove –tight, skinny black pants, flattering flowing tops, and accents of sequence, chains and zippers.
Check it out for yourself! The collection is now available in stores and at NicoleMiller.com
While you're there, don't miss the accessories! There are some amazing accent pieces.