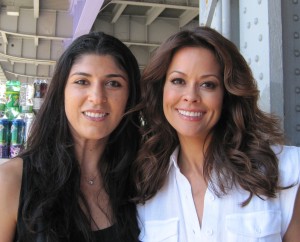 Pretty Connected caught up with Dancing with the Stars host, Brooke Burke to get the skinny on her gorgeous locks as she kicked off the Wella Professionals Color Discovery Tour.
Pretty Connected (PC): What's most important to you when it comes to your hair?
Brooke Burke (BB): I think healthy hair is probably the most important. I do a lot of conditioners and deep conditioners, glosses, and get regular haircuts. I don't stray too much from natural browns so I use the Wella Professionals hair color line in the salon, to keep my hair healthy and shiny.
PC: What hair product can you not live without?
BB: I like spray glosses since my hair is pretty curly and gets frizzy. I also use coconut oil in a jar, which you can get at most health food stores; it's really cheap, all natural and it's the best. I put it on my ends and it's great!
PC: What's your beauty secret?
BB: Less in more, especially in the summertime. For me, it's really about sunscreens, and maybe tinted sunscreens or moisturizers and not laying too much.
PC: What attracted you to Wella and what is the best advice they have given you?
BB: I've always wanted to do a hair campaign and Wella approached me.  I love their products; I use the Wella Professionals color line and glosses.
The best advice they gave me was to have a conversation with my colorist and ask what they were using on my hair. I didn't before, most women don't.  The whole point of this tour is to encourage woman ask those questions and really educate themselves with their colorist. I would pull out tear sheets and have visuals and say this is what I want but I had no idea what they were using. Wella is trying to correct that and get people to have a better relationship with their colorist and broaden awareness about the Wella line.
More images from the Wella Professionals Hair Discovery Tour: