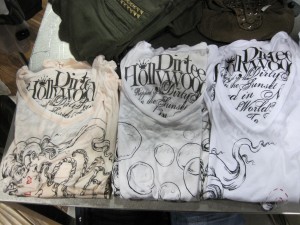 I feel like I've been hearing the name Molly Crabapple everywhere these days. Known for her unique burlesque style animation, Molly has illustrated for a wide array of publications including Marvel Comics, New York Times, Wall Street Journal, as well as for NYC hot spot, The Box. She has also exhibited her work internationally as well as founded the Dr. Sketchy's Anti-Art School. Now Crabapple is entering the fashion world thanks to her recent partnership with Dirtee Hollywood, where she has designed for their Spring, Summer, and Fall tshirt collections.
Dirtee Hollywood celebrated the collaboration at Fred Segal in LA, and Atrium in NYC, where Pretty Connected had the pleasure of meeting Molly and watching her work (she literally transformed a blank canvas into a burlesque-vixen with an octopus before our very eyes (see pictures below).
Pretty Connected (PC): How did you come to be apart of this collaboration?
Molly Crabapple (MC): Dirty Hollywood approached me about a year ago. I had never thought I would do a fashion line before but they gave me complete creative freedom. They said 'Molly you're known for doing saucy Victorian girls, do saucy Victorian girls for us' and it's just been this wonderful collaboration ever since.
PC: How did you come up with the drawings for Dirty Hollywood?
MC: I suppose I should have a more rational explanation for this, but I really put pencil to paper and see what comes out. I did a ton of sketches and they selected their favorites and then I refined the drawings.
PC: What inspired the piece you're working on in the store
MC: I like octopuses and I like girls in stripey tights.
PC: Did you also pick the outfits for the models this evening?
MC: I did. All these models are my friends and the top burlesque performers in NY.  They are all kind of my muses –I come from the Burlesque scene. They are all styled to look like my drawings. I picked big crazy hair, striped tights, and little booty shorts.
PC: What's next for you?
MC: I have a bunch of projects I'm working on right now, I'm doing a web comic with DC Comics, which is awesome. I've done a number of seasons with Dirty Hollywood, this is just the first one to be released. So I hope we'll be collaborating for many years to come.
For more information on Molly Crabapple for Dirtee Hollywood collection visit dirteehollywood.com