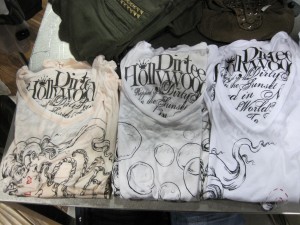 I feel like I've been hearing the name Molly Crabapple everywhere these days. Known for her unique burlesque style animation, Molly has illustrated for a wide array of publications including Marvel Comics, New York Times, Wall Street Journal, as well as for NYC hot spot, The Box. She has also exhibited her work internationally as well as founded the Dr. Sketchy's Anti-Art School. Now Crabapple is entering the fashion world thanks to her recent partnership with Dirtee Hollywood, where she has designed for their Spring, Summer, and Fall tshirt collections.
Dirtee Hollywood celebrated the collaboration at Fred Segal in LA, and Atrium in NYC, where Pretty Connected had the pleasure of meeting Molly and watching her work (she literally transformed a blank canvas into a burlesque-vixen with an octopus before our very eyes (see pictures below).
Pretty Connected (PC): How did you come to be apart of this collaboration?
Molly Crabapple (MC): Dirty Hollywood approached me about a year ago. I had never thought I would do a fashion line before but they gave me complete creative freedom. They said 'Molly you're known for doing saucy Victorian girls, do saucy Victorian girls for us' and it's just been this wonderful collaboration ever since.
PC: How did you come up with the drawings for Dirty Hollywood?
MC: I suppose I should have a more rational explanation