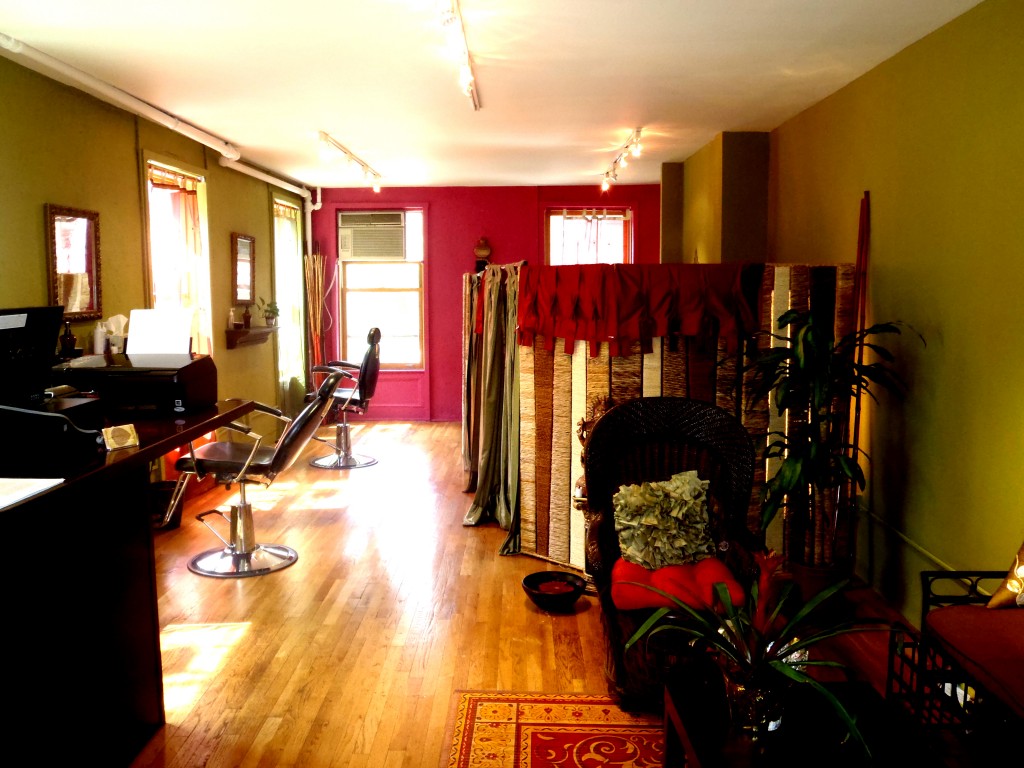 Tucked away on the 2nd floor of 448 West Broadway, Hibba NYC is Soho's first 'Browologist' Salon that offers a full range of organic waxing, threading, and sugaring services.
Pretty Connected sat down with Founder and Browologist, Hibba Kapil to learn more about the woman who has mastered the art of threading and known for creating perfect arches.
Pretty Connected (PC): How long have you been doing eyebrows?
Hibba Kapil (HK): 9 years, I opened this location in February [2010]. Prior to this I rented a chair at a salon to build up my clientele.
PC: Between waxing and threading, which do you recommend?
HK: I don't use wax above the neck. I recommend threading for face, although I recently began offering sugar, which is much gentler than threading for my clients with more sensitive skin. Sugaring is a lot easier on the skin.
PC: Why don't you wax on face?
HK: I don't use wax on the face because your skin is a lot more sensitive. And for people who are using Retin-A or any proactive it's not very safe since you're skin is already very thin and the wax can easily catch it.
PC: How much time  in between sessions do you recommend that you're clients grow out their eyebrows prior to visiting your salon?
If they really want to create a new brow shape, I recommend not touching (no razor, no tweezers…) your eyebrows for 3 weeks. If the shape is okay and you just want a clean up, that can be done anytime.
How did you know what will work on a person?
There are some general rules.  There are two basic brow shapes, round and arch, then there are different face shapes that match each for instance a heart face shape needs a soft arch, a long face and square face needs a tapered arch, an oval face –an angled arch. It also depends on how thick your eyebrows. I have clients that come in and want a certain look that doesn't support their brows and I have to work with them to achieve the right look. If all else fails I show them how to fill them in.
PC: What do you recommend for people doing their eyebrows at home?
HK: When you try to keep up your shape at home there are 3 things you never want to do all at once –thinking, pulling and hurting yourself in one go. Instead, take a dark color pencil and draw an outline of what your ideal shape is.  Be sure to go with the grain of your hair when you pluck.
I put my eyebrows to the test and asked Hibba to do whatever she thought would work best for my face –but to keep my brows full. I admit I'm new to threading. I generally get them waxed (don't worry no longer, she's right, it leaves my brow area sensitive and all red).  So on to threading! After what felt like a lot of pulling and trimming, I was nervous my brows may be gone! I have thick eyebrows so it was quite painful, but quick –and well worth it. I looked in the mirror and my eyebrows we're perfect and full. Phew!  Turns out, she's just a perfectionist.
For more information and to book appointments visit hibbabeauty.com
Affiliation: Pretty Connected was given a complimentary service.  Pretty Connected was under no obligation to write this review.