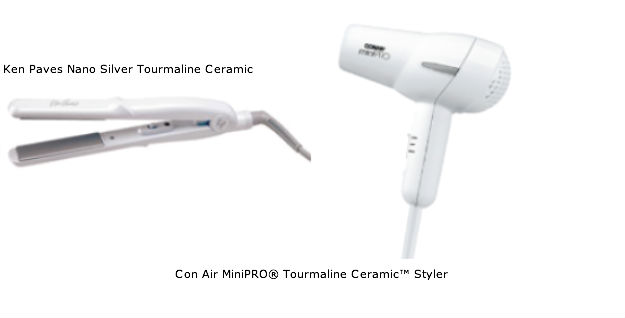 You've probably noticed that lately I've been slacking.  My travel itch has been flaring and while I thought more time to myself = more writing, evidently that has proved false.
While my blogging may suffer on this vacation, my love of trying new beauty products and tools has not.  In fact, there are currently two makeup cases filled with cosmetics and skincare as well as a travel flat iron and blow dryer in my suitcase.
Now it's no secret that no matter how great my makeup and outfit is, if my hair looks bad, I feel bad [Disclaimer: this complex does not apply when hanging out by myself or with family].  So travel size hair styling tools are essential for when I hit the road.  Currently there are two that I'm excited about; Ken Paves Nano Silver Tourmaline Ceramic Styling Iron and Con Air MiniPRO® Tourmaline Ceramic™ Styler Hair Dryer.
I do of course recommend using proper stying hair products with all heating tools to keep hair protected and healthy as well as sectioning hair in parts, and drying with the grain of the hair with either a comb or round brush (depending on desired look).
Ken Paves Nano Silver Tourmaline Ceramic – $60
I have been using this flat iron regularly for the past 6 months and it hasn't let me down yet.  I have big, wavy hair so I need a very durable straightner with a lot of heat to really work my hair straight. The Nano Silver Tourmaline Ceramic plates quickly heat to 410 degrees, maintaining a high and even heat that leaves my hair frizz-free and shiny.
It's slim and lightweight design makes it highly portable whether it's transporting it to the office or across the ocean.  It also makes it incredibly user friendly and great for any tough to straighten areas, such as my small wisps across my forehead and behind my ears.
Added Perks:
Nano Silver Tourmaline Ceramic – Ceramic 1″ inch plates gently hold hair and apply heat evenly to every strand
Smooth Swivel Design – 360 degree swivel connection prevents tangling
Portable Design – Designed for traveling and perfect for styling bangs, short hair, close to the scalp, men's hair and finishing
Convenient Storage – Thermal lines travel pouch included
Measures only 9″ long
For more information and to purchase visit folica.com or ulta.com
Con Air MiniPRO® Tourmaline Ceramic™ Styler – $22
I'll admit, I've only recently gotten into blow-drying my hair. Having 'big' hair I've always found better luck with flat irons. However, ever since receiving a Keratin Treatment from Mizu Salon (review to come), my hair is a lot more manageable and receptive to blow drying.
I was given the Con Air MiniPRO® Tourmaline Ceramic™ Styler at the Gift Show in NYC, by a very optimistic sales rep after I delivered a very pessimistic speech on how unruly my hair can be and how particular I am about my heating products. Basically, good is not good enough, I want something great –and not just great for a 'travel size'. Size should not compromise quality.
Well this hair dryer is wonderful! It's so compact and lightweight and with 1200 watts of mega-power it rivals any full-size blow dryer.  Plus it comes with add –ons (diffuser and concentrator) which makes my life so much easier.
It also passed the ultimate test: Mom.  I made the mistake of bringing on my current trip to Boston (where my family is) and asking her for a second opinion.  With decades of blow-drying experience she's beyond an expert (and pickier then I am when it comes to products).  Well lets put it this way, she liked it so much, I'm coming home one product short in my suitcase.
Added Perks:
Tourmaline Ceramic™ technology – natural ions help smooth the hair's cuticle layer, creating silky, shiny results
2 heat/speed settings
Worldwide dual voltage
Deluxe travel pouch – perfect for on the go
Diffuser for curly and wavy styles
Concentrator for pinpoint styling
Limited two-year warranty
For more information visit www.conair.com/
Now all I need is a travel curling iron!
Affiliation: Both products were given to Pretty Connected by a company representative.  Pretty Connected was under no obligation to write this review.