Post by Mike Twombly
Every year, the weeks leading up to Father's Day are the same. You struggle with what to buy him, and eventually just break down and ask. But if your father is anything like mine, he'll probably tell you he doesn't need anything that badly, and that anything you can come up with will be fine. One suggestion to save yourself that headache is to get him something that he wouldn't normally choose for himself – especially something that will be an upgrade to some of the things he already uses everyday. That's just what Votre Vu had in mind with their 'Tie One Off' Father's Day Set.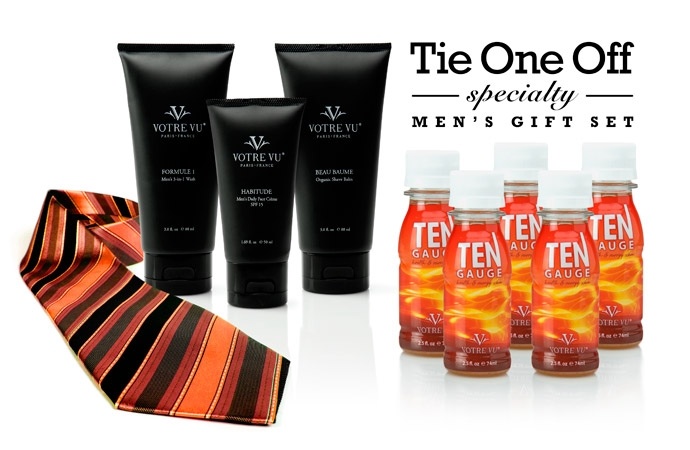 The set features four different products, all designed to indulge your dad and help him look his best. Let's start with the Ten Gauge energy shot – a fresh and flavorful juice drink for the morning, after work or the gym. Amazingly, in only 30 calories they packed in many all natural healthy supplements including B Vitamins, Selenium, Yerba Mate extract and Sea Buckthorn. This blend will both energize dad and help maintain his virility, something he wouldn't be celebrating Father's Day without! *cringe*
Most Dads love simplicity, and a product like Votre Vu's 'Formula 1 Hair, Face, and Body Wash' (3.0 fl. oz) will definitely please even the pickiest, high class fathers out there. This 3-in-1 cleanser is gentle enough for everyday use, and features ingredients like panthenol, glycerin, cinnamal, and citral to give you a thorough clean while keeping your body's pH balance in tact. I really enjoyed the light, fresh, and masculine smell of this product, and appreciated the generous lather they achieved without using sulfates. The cleaning power might not be enough to tackle hair that's been styled with a product like or wax or mousse, but it would be the perfect thing to clean and treat hair after a sweaty workout. My favorite use for this product was for my face.  It left my skin clear of dirt and oil, but still feeling soft and healthy.
Also in the collection is their 'Habitude Daily Face Creme' (1.69 fl. oz), which mixes a daily moisturizer with SPF 15 sunscreen — the combination makes for a great morning treatment. The first thing I noticed about this cream was the refreshing smell of the citrus and other natural ingredients. The next was how thick and deeply moisturizing it is; a good sign of the promised sun protection. With a morning application, my skin stayed moisturized and comfortable all day. Dad will definitely appreciate the ease of using just one product to get all the treatment his face needs for the day, and you can feel good about helping him protect his skin from the sun. You might even want to borrow some when you go out to mow the lawn as part of his gift!
The final item in the set is the 'Beau Baume Organic Shave Balm' (3.0 fl. oz). This soothing shave cream goes on easily with or without water and leaves your skin feeling soft and hydrated. My razor glided smoothly over my skin with this cream in place, and I was pleased with the level of protection it offered. This might be the best-smelling item in the whole kit; featuring a cool bite of menthol in addition to the citrus and almond oil essences that make for a pleasant, smooth, and masculine aroma. My one disappointment with this product was how it stuck under the blade of my razor. I use an old school double-edge safety razor, and it just took a little longer than usual between strokes to wash the cream out of it. Perhaps the results would be better with a more contemporary design, though.
In total, I was very happy with the experience I had with this kit. and can safely say it would be a huge improvement over what my dad uses now and an (affordable) way to treat himself to luxury products everyday.
Just remember when Dad commends you for your good taste, make sure you give him credit for passing it down!
The Tie One Off set is $63 ($93 value).  For more information visit votrevu.com
Affiliation: This set was given to Pretty Connected by a company representative.  Pretty Connected was under no obligation to write this review.