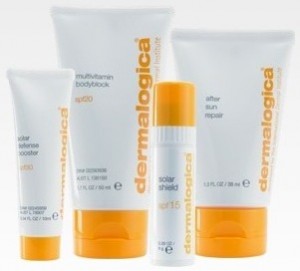 I was given 3 pieces of advice when leaving for Colorado; bring a good book, watch out for the altitude (drink lots of water), and pack your sunscreen.
Done and done.  Since I don't like to check baggage, for sunscreen I went with Dermalogica's Limited Edition Daylight Defense Kit.  It's very compact and consist of four sun-protecting products all of which are under 3oz, making it the perfect set to bring on my travels.
The Set includes:
Solar Defense Booster SPF30 (.34 oz.) – a lightweight face lotion that can be added to your moisturizer, foundation or worn alone for SPF 30 protection.
MultiVitamin Body Block SPF20 (1.7 oz) – nourishing body sunscreen that blends effortlessly onto skin with Shea Butter and Evening Primrose that helps hydrate skin and protect against dryness.  It also contains Panthenol which helps skin recover from previous sun damage.
After Sun Repair (1.3 oz) – after sun balm that helps repair recent UV damage, and soothe skin from overexposure from the sun.  Formulated with a blend of homeopathic herbs to reduce redness and soothe painful sunburn.
Solar Shield SPF15 (.28 oz)- Water resistant, sun protecting moisture stick for lips, ears and nose.
All items in the kit are made with UV Smart Booster Technology, a customized microcapsule that safeguard active vitamins, which burst open upon contact with UV rays to protect against free radicals (what causes wrinkles, loss of elasticity, age spots, discoloration… and all that bad stuff) and is recommended for all skin types/conditions.
For me, the all-stars in the group we're the Solar Defense Booster and MultiVitamin Body Block.  I'm an olive complexion so I don't tend to burn, especially if I reapply every few hours and SPF20 and above is generally enough protection for me (red heads/sensitive skin types you may need something slightly higher or to reapply often).  I should add I have no plans to burn (then again, who does?) so I haven't had much use for the After Sun Repair, although it feels nice to apply it after a day in the sun, and good to have around, just in case.  As for the Solar Shield, while it's convenient I could do without it.  I'm not a huge chapstick person nor do I tend to burn on my nose or ears; however if you do, this could come in handy.
What really attracts me to this collection (besides it's protection) is how quickly and effortlessly it blends into skin, leaving none of that messy white coloring or oily residue behind.  It also doesn't smell like conventional sun block (which is a good thing); it has a very light almost rose smell to it.
Price: $35, available for a limited time only at Dermalogica.com
Affiliation: This set was given to Pretty Connected by a company representative.  Pretty Connected was under no obligation to write this review.