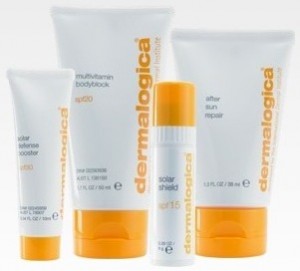 I was given 3 pieces of advice when leaving for Colorado; bring a good book, watch out for the altitude (drink lots of water), and pack your sunscreen.
Done and done.  Since I don't like to check baggage, for sunscreen I went with Dermalogica's Limited Edition Daylight Defense Kit.  It's very compact and consist of four sun-protecting products all of which are under 3oz, making it the perfect set to bring on my travels.
The Set includes:
Solar Defense Booster SPF30 (.34 oz.) – a lightweight face lotion that can be added to your moisturizer, foundation or worn alone for SPF 30 protection.
MultiVitamin Body Block SPF20 (1.7 oz) – nourishing body sunscreen that blends effortlessly onto skin with Shea Butter and Evening Primrose that helps hydrate skin and protect against dryness.  It also contains Panthenol which helps skin recover from previous sun damage.
After Sun Repair (1.3 oz) – after sun balm that helps repair recent UV damage, and soothe skin from overexposure from the sun.  Formulated with a blend of homeopathic herbs to reduce redness and soothe painful sunburn.
Solar Shield SPF15 (.28 oz)- Water resistant, sun protecting moisture stick for lips, ears and nose.
All items in the kit are made with UV Smart Booster Technology, a customized microcapsule that safeguard active vitamins, which burst open upon contact with UV rays to protect against free radicals (what causes wrinkles, loss of elasticity, age spots, discoloration… and all that bad stuff) and is