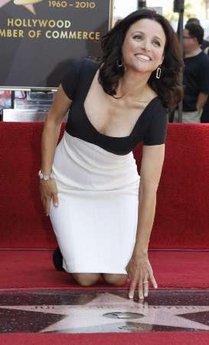 Perhaps Julia Louis-Dreyfus is not the easiest name to spell off the top of your head, but I'm at a complete loss as to how her name was misspelled on the star she received for the Hollywood Walk of Fame.  Apparently, the spelling "Julia Luis Dreyfus" (missing both the 'o' from 'Luis' and the hyphen between 'Louis' and 'Dreyfus') was approved by several members of the LA Chamber of Commerce and the errors were not discovered until CNN correspondent David Daniel noticed the mistake. Smack! (*hand to forehead*).
Fortunately, the actress had a great sense of humor about the whole situation saying, 'the misspelling was so perfectly apt, a great metaphor for show business. Right when you think you've made it, you get knocked down. It's an ideal metaphor for how this business works'.
Don't worry, the star will be fixed, but seriously, how does that even happen? I would have thought only in a Seinfeld episode.
Photograph Credit: Reuters