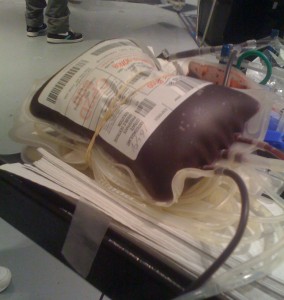 Back in January, I tried to do my part in the Haiti earthquake relief efforts, by writing a post listing five easy ways individuals could get involved and help and pledged to do them all.  One of the ways listed was to donate blood.  Earlier I received a phone call from the Red Cross saying "I'd like to talk to you about your blood donation in January".  Naturally, I stopped dead in my tracks and panicked; I thought the only reason the Red Cross calls was if there was something wrong with your blood.  I was wrong.  She continued with, "Are you aware that there's currently a shortage of all blood types in NYC but especially 0+, and with just one donation you can help as many as three people? Can we count on you to make a donation?"
My answer was most definitely yes! Although I recommended they open with "We need your help" when making these types of phone calls.
My freak out over thinking I had some type of fatal disease lasted all of under a second, yet there are many who aren't as fortunate with their medical scares –or rather realities.  So at the risk of sounding like a 'please help' commercial with Sarah McLachlan playing in the background, please consider donating blood. It's honestly not that bad especially when you consider how many people you can help with just an hour of your time (the needle's only in for about 10 minutes).
For more information including eligibility requirements as well as answers to any questions you may have visit www.redcrossblood.org/donating-blood