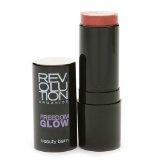 The Freedom Glow Beauty Balm (in Sunkissed) was my introduction to Revolution Organics, a very impressive product.  This versatile balm can be used on lips, eyes, and cheeks; all in a one convenient stick.
Great for medium skin tones, Sunkissed is the perfect shade for me!  It's peachy-pink with a light shimmer, that lets you build color to adjust to your desired shade.  For cheeks (my primary use for the balm), I apply a small amount during the day along my cheekbone for a nice, sun-kissed natural glow.  For more of a classic blush look, I apply a stronger stroke, which brings out more of the pink tones to the peach.  Plus it's easy blend formula makes it effortless to keep cheeks even (and wipe off any excess if you apply too much).  For eyes, I like to use a single stroke under my eyebrows for a nice highlighting shimmer effect, which not only brings out my eyes, but whatever eye makeup I'm sporting for that day.
Made with 100% pure, natural, and organic ingredients, including organic olive, coconut, and jojoba oils, beeswax, and aloe vera, the Freedom Glow Balm collection protects, hydrates, and moisturizes your skin.
All Revolution Products are free of chemicals, parabens, synthetics, and artificial ingredients.  I'm sold!
Price: $34. The Freedom Glow Beauty Balm is also available in other shades, Blushed and Bronzed.  For more information visit bigelowchemists.com
Affiliation: This product was sent to me by a company representative.  I was under no obligation to write this review.