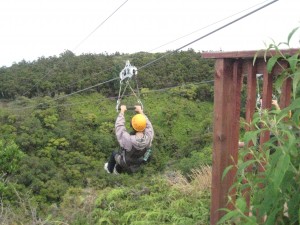 While in Maui, I received an invitation to do the 'Swing and Zip Upper Mountain Loop' at Kapolau Adventures.  Having never done a zip-line before, I had no idea what to expect.  The only instruction I had, was to wear sneakers.
Upon arrival, my partner in crime, Jamie, and I were given windbreaker jackets and helmets (I got what resembled a 'Bob the Builder' hat, since I was told I had an awkward shaped head – always knew I was a little different).  They drove us to the top of the mountain on the edge of the Pu'u Kukui Watershed Preserve where adventure began!
The five-hour excursion consisted of multiple small hikes in between four amazing zip-lines, a giant swing, and ultimately lunch on the mountain.  Hands down one of the most breathtaking, amazing experiences of my life.  And what a work out!
When the guide mentioned that the last zip-line was 2.300 feet, I was a little anxious about going down it, though I felt completely safe and secure the whole time.  The harness straps comfortably hooks on to the line, so all you have to do is sit back, relax, and enjoy the breeze as you zip over lush valleys surrounded by gorgeous vistas.  What a rush!
And then came the swing.  While I could have gone down the same zip line over and over again, once was enough on the swing.  Don't get me wrong, I'm glad I experienced it, but it was terrifying.  The giant swing holds two people at a time and runs between two telephone poles.  My partner and I were hoisted up 60 feet into the air holding on to a single strap.  Once we let go of the strap, we free-fall for 3 seconds before swinging into the wilderness, immersed into nature.  For those long 3 seconds, I felt like I was on the Berserker ride at Kings Dominion.  After the third swing back, my stomach stopped turning, and I was able to really enjoy the rest of the ride.
If you ever find yourself in Maui, looking for the ultimate outdoor experience, the zip-line at Kapalua Adventures is a must!
For more information visit www.kapalua.com