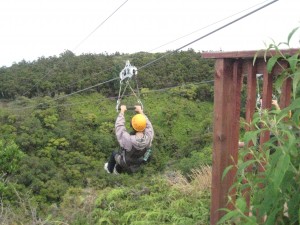 While in Maui, I received an invitation to do the 'Swing and Zip Upper Mountain Loop' at Kapolau Adventures.  Having never done a zip-line before, I had no idea what to expect.  The only instruction I had, was to wear sneakers.
Upon arrival, my partner in crime, Jamie, and I were given windbreaker jackets and helmets (I got what resembled a 'Bob the Builder' hat, since I was told I had an awkward shaped head – always knew I was a little different).  They drove us to the top of the mountain on the edge of the Pu'u Kukui Watershed Preserve where adventure began!
The five-hour excursion consisted of multiple small hikes in between four amazing zip-lines, a giant swing, and ultimately lunch on the mountain.  Hands down one of the most breathtaking, amazing experiences of my life.  And what a work out!
When the guide mentioned that the last zip-line was 2.300 feet, I was a little anxious about going down it, though I felt completely safe and secure the whole time.  The harness