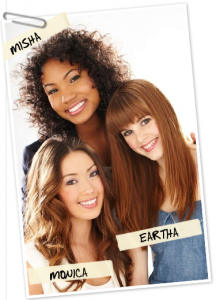 Clinique teamed up with Teen Vogue in search of three fresh faces that embodied the essence of Clinique and Teen Vogue.  From September 22nd – November 6th Clinique traveled from NYC to LA, stopping in 10 cities, aboard the Clinique "Mobile Beauty Studio" vehicle.  Candidates who could not make it to the studio were encouraged to apply online.
To enter, applicants submitted a headshot and filled out an entry form that asked them to described their fresh face look in three words. After an extensive national search, a panel of Clinique experts selected 25 finalists.  Their headshots were then uploaded online for the public to vote for their three favorites.
Meet Monica, Misha, and Earth, the three winners (out of 7,000 entries) for Clinique and Teen Vogue's Fresh Faces Tour.
These three lucky young women received a once-in-a-lifetime VIP opportunity in NYC including a glam head-to-toe makeover styled by Teen Vogue experts, a professional photo shoot that will be featured in Teen Vogue magazine, and a behind-the-scenes tour with Teen Vogue.  As if that's not exciting enough, the winners also visited Clinique's headquarters, and met with Clinique experts to get a glimpse of how beauty products are developed and took home a yearlong supply of Clinique products.
Jealous? I was. I had the pleasure of spending the day with these lovely ladies as they had the time of their lives being styled and photographed for their Teen Vogue feature.
Here's what these ladies had to say: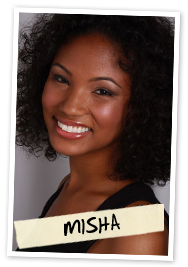 PRETTY CONNECTED (PC): How did you hear about the Fresh Faces Tour?
MISHA B. (MB): I was online the night before and I saw the ad, so the next day I went over.  I waited in line for about 4 hours and that was it.
PC: Tell me about your experience.
MB: When I got there the lady told me that the line was closed, but I insisted, and insisted.  She told me to leave but I stayed there and waited for 4 hours (and it was really cold that day).
PC: What were the 3 words you submitted to describe yourself?
MB: Beautiful, outgoing, and fresh.
PC: What did you do when you found you won?
MB: When I first found out about it, I was very, very excited.  The first thing I did was call my parents.  And it meant a lot to me because I've never really done anything as big as this before.
PC: How has this experience impacted you?
MB: I would love to work with fashion, beauty, or magazines, but I would actually really like to be a model.  It would be an amazing job. The experience has been eye opening.  It's been a pleasure, it's great, and I've met so many great people and learned so much.
PC:  Now that you've spent a day at Clinique, what product would you add to your favorites list?
MB: The Vitamin C Lip Smoothie.
PC: What was it like being amongst the top 25 and then ultimately win?
MB: So being narrowed down to the top 25 was really exciting, but then being chosen as one of the three, was a dream come true.
PC: Any surprises?
MB: Yes, they took us to Louis Vutton! We had no idea we were going there. That was really exciting!
PC:  How many issue of Teen Vogue are you going to buy?
MB: I said 30, my mom said 100, so I guess we're going with 100.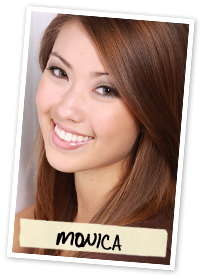 PC: Is this your first time in NYC?
Monica P. (MP): Actually, it is my first time visiting here.  It's very exciting.
PC: How did you hear about the Fresh Face Tour?
MP: I got out of my class, and Clinique was on campus, and a representative was handing out flyers.  So I waited in line for an hour, and then got my hair and makeup done.  I was there the first day.
PC: What were the 3 words you submitted to describe yourself?
MP: Cute, sweet, and natural.
PC:  What does this opportunity mean to you?
MP: It honestly means the world to me.  This is a once in a lifetime opportunity.  Who gets to say they are going to be in Teen Vogue? And get to go behind the scenes of Clinique and the magazine.
PC: What was the brainstorming session like at Clinique?
MP: Oh that was one of my favorite parts. It was so interesting to see how much effort they put into these products, how much organization and timing.  I have so much admiration for them.  Plus we got to pick out some of the names for future products.
PC: What was the first thing you did when you found out you won?
MP: I screamed 'Mooooooooom' as soon as I got off the phone.  We were jumping up and down – my little sister, my dad; we were just so ecstatic.
PC: What did you think about your day at Teen Vogue? Was it everything you expected?
MP: It was more then I expected.  I already loved Teen Vogue and Clinique in the first place, but seeing the people that actually run the companies, and how much hard work they put into it, just made me appreciate it that much more.
PC:  How many issues of Teen Vogue are you going to buy?
MP: Oh my goodness, I'm sure whenever I go to the grocery store, or wherever I am, I'm going to buy it again and again.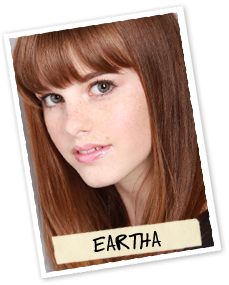 PC: How was the brainstorming session at Clinique?
EARTHA H. (EH): That was really fun. I had no idea how they picked the names of the products, or how they came up with them, so it was really great to learn about the process.
PC: What did you order with your one-year supply of products?
EH: I basically ordered one of everything.
PC: What was it like to see your photo posted online when you were one of the top 25 finalist?
EH: That was just an amazing feeling.
PC: How did you find out you won?
EH: I was at school and my parents got the phone call, and when they picked me up, they told me.  I was so excited I almost couldn't speak. I ran into my school and told my teachers.  They were really supportive about the whole thing, and had students vote for me.
PC: How has this experience impacted you?
EH: I was really passionate about being a model before, but now I am gung-hoe.  And in the future, I definitely want to do something in fashion.
PC: How was the fashion shoot?
EH: Really fun! It was all day, but it just flew by!
PC: What surprised you the most from your day at Teen Vogue?
EH: I wasn't expecting everyone to be so nice! Not that I thought they would be mean, but everyone really took the time to explain to us how everything worked. They were just so great.
PC: What's your usual beauty routine, and how has it changed since this experience?
EH: I usually just use concealer, mascara, and eyeshadow.  I don't go out that much but when I do, I'm going to experiment with recreating the look I have on now – smoky eyes with pale lips. I love this look!
PC: What was your stylist session like? Was it similar to your personal style?
EH: Great! It was really an extension of my personal style, which boosted my confidence.
PC: How many issues of Teen Vogue are you going to buy?
EH: Probably a lot, definitely a lot! Every time I see one.
For more on the Fresh Faces Tour, including updates and behind the scenes footage visit http://www.cliniquefreshfaces.com/ And don't forget to pick up an issue of Teen Vogue's April Edition!
Check out our behind-the-scenes shots from the Teen Vogue photo shoot.