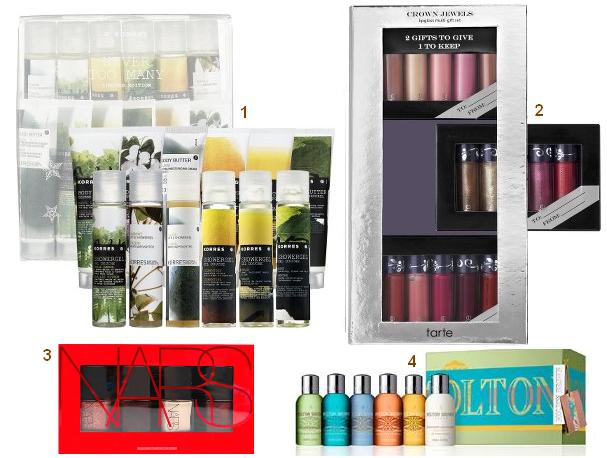 If you're like me, then right about now you've finished most of your shopping and just trying to resolve a few loose ends.
So here it is — a list of great gift sets to have on hand that you can give as is or break them apart (they makes great little stocking stuffers).  And if all else fails, keep them for yourself, everyone wins!
1. Korres – Never Too Much of a Good Thing
The possibilities are endless with this unisex set of 12 body products (six showergels, six body butters).  Match them by scent and give them to your favorite coworkers (just get fancy on the wrapping).  Or you can give the entire set to that person in your life who's fortunate enough to have a guest bathroom and enjoys putting toiletries out for their guests. Also a perfect gift for hosts/hotesesses, secret santa, travelers, siblings, maybe even the mailman? … like I said, endless possibilities.
The set contains:
6 Showergels in Basil Lemon, Jasmine, Guava, Clementine, Melon, and Mint
6 Body Butters in Basil Lemon, Jasmine, Guava, Clementine, Melon, and Mint
Price: $39.50 (value $99).  Exclusive to Sephora, visit Sephora.com for more information.
2. Tarte – Crown Jewels Lipgloss Multi-Gift Set
This limited edition set already does the work for you! This gift is nicely packaged on its own or inside there are 3 sets of perfectly packed sets of 5 mini lip glosses ready to be given out by lip gloss preference: Glittering Green Goddesses (sheer nudes to pink range), Dazzling Divas (a glittery group of pinks to gold), and Twinkling Trendsetters (high pigmented bright colors or pinks and reds).  They even have a 'To/From' label on each set, so you don't even need a card.
My one complaint is the name of the colors aren't listed under the tube, which makes it difficult later when you're ready for a refill!
Price: $39 (value $165).  For more information visit Sephora.com
3. NARS – Drop Dead Gorgeous Mini Nail Kit
Consisting of 4 shades of NARS top nail polish colors — Arabesque, Chinatown, Candy Darling, and Saratoga, could this set be any cuter?  NARS' long lasting, and beautifully pigmented formula (I like to do two coats), makes for a great gift.  Plus, what girl doesn't love nail polish?
A great set on it's own or break these little, adorable nail polishes apart for a great stocking stuffer.
Price: $30.  For more information visit narscosmetics.com
4. Molton Brown – Atlantic Trail Set
A bit of a splurge, but so worth it. This six-piece set of unisex flavors is an exquisite choice for men (and woman).  Clean, fresh, smooth — I'm just all about the Molton Brown aesthetic and the six scents chosen from their existing line, which includes:
Heavenly gingerlily moisture bath & shower
Warming eucalyptus bath & shower therapy
Invigorating suma ginseng bath & shower
Energising seamoss bath & shower
Inspiring wild-indigo bath & shower
Ultrasmooth coco de mer body lotion
Price: $55.  For more information visit moltonbrown.com
Affiliation: The Crown Jewels, was given to me by a company representative. I was under no obligation to write this review.