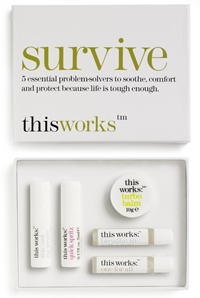 The Survive Kit from This Works is a travel friendly 5 piece set That includes:
Turbo Balm – A preservative free balm, made from Cocoa Butter, Rose, and Monoi, works great on lips, cuticles, elbows, (basically any chapped area) to sooth dryness.
Quick Spritz – A cool hydrating spritz for the face and body blended from on palmrosa and rosewood to refresh the skin.
One for all – A roller ball with pure lavender and coconut oil, is a natural antiseptic that can be used when skin needs some soothing relief.  The calming smell can also help aid sleep.
Breathe in – Aromatherapy to the rescue.  This roller ball with frankincense and eucalyptus is useful for clearing the head, or when feeling run down.
Stay Cool Eye Serum – A soothing blend of aloe, arnica, and cucumber. Easy absorption into the skin — this helps me look revived and refreshed after a long night.
For more information click HERE