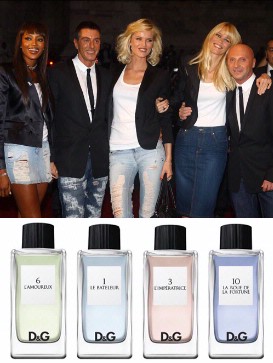 Yesterday, Claudia Schiffer told Italian magazine, Donna Moderna "I am finished with the catwalk and I won't miss it." While the 39-year-old German icon will retire from the runway, this is not her exit from modeling; she is after all the face of Alberta Ferretti's new signature fragrance. "I continue to model and it's a lot of fun – but no more fashion shows."
Last week, the blonde bombshell reunited with fellow 90s supermodels Naomi Campbell and Eva Herzigova to celebrate the launch of Dolce and Gabbana's D&G Anthology Perfumes.  The ladies appear in the print ads for this five piece collection of fragrances that were all named after tarot cards and designed to be
worn together.  Each one of them inspires a scent; 'La Lune' (the moon) for Claudia Schiffer, 'L'Imperatrice', (the emperor) for Naomi Campbell and 'La Roue de la Fortune' (the wheel of fortune) for Eva Herzigova.
Seems to me these supermodels aren't going anywhere…in fact they're sticking together.