Since kicking off Memorial Day weekend in the Hamptons, I have not spent a single weekend in New York — I think I've officially played into the NYC stereotype (you know what they say New Yorkers leave the city during the summer weekends). No, not really! While I'll be spending plenty of future weekends in NYC, the time away has helped me perfect my beach destination weekender bag packing list. While the products may change (although I'm a bit of a loyalist), the list shall remain the same… (for now.)
1. A Large Tote/Beach Bag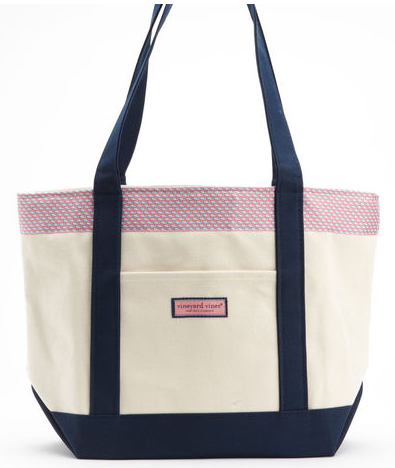 Vineyard Vines Vineyard Classic Tote ($95) – great for a weekend escape and perfect size tote for the beach! It can comfortably fit my towel, sunnies, book, snacks and bottle of wine (beach approved). Plus I'm originally from Mass., so I gotta represent for my Vinyard friends!
2. Bathing Suit Holder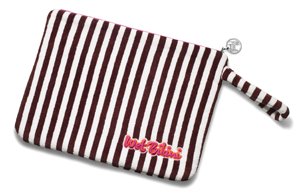 Henri Bendel Bendel Girl Bikini Bag ($38) -It's everything I never knew I always needed! It's amazing this Bendel's girl went so long without a case for her wet bathing suit. Especially since I like to be at the beach until the  very last minute or my getaway and don't always have time to hang my suit to dry before packing it. (And I really dislike wasting plastic bags to carry it in.)
3. Bug Reppelant!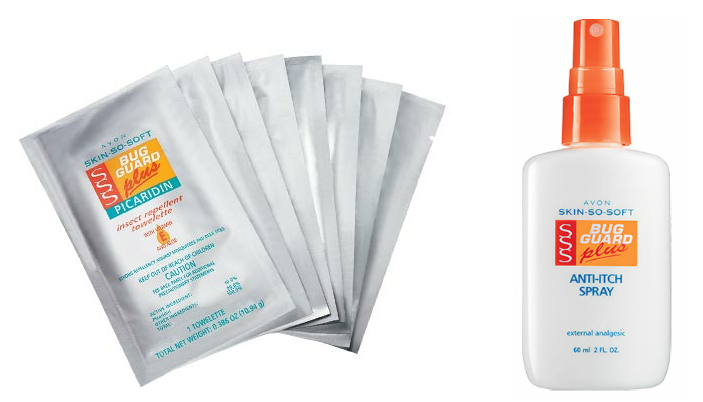 Avon Skin So Soft Bug Guard Towelettes (8 pack/$14) and Avon Skin So Soft Bug Guard Anti-Itch Spray ($10) – Mosquitos love me. Like, literally, I could be your walking bug repellant which is why I don't leave my house in the summertime without an Avon's Bug Towelette in my purse. It's deet-free, affordable and it works, enough said. In fact, Avon's entire Bug Guard collection is great (I just go with the towelettes for travel for convenience). Avon recently added an Anti-Itch spray to the collection and while I haven't had the chance to use it (I haven't been bitten yet!), I'm not traveling to a mosquito friendly destination (ahem Hamptons) without it. SIDE NOTE: If you enjoy games as much as I do, Avon also launched a super fun bug-squating game, BugBash on their Facebook page (get competitive with it and challenge a friend).
4. SPF!!!
Aveeno Hydrosport Sunscreen Spray with SPF 50 ($8.99) and Aveeno Positively Radiant SPF 30 ($16) – SPF is a must… always (unless you're hanging out inside). The spray is great for in and out of the house, it's no-fuss, no-mess and super lightweight! The Daily Moizturizer is great for my face and my favorite from the Aveeno line; it's not oily, chalky or too heavy, which I prefer for summer. I'm so happy with it.
5. Flat Iron

 T3 SinglePass Compact Flat Iron ($79) – Don't let it's compact, travel-friendly size fool you, this flat iron does it all; it smoothes out my hair and gets rid of frizz while straightening it, and it makes strands super shiny and modelesque. I have a thick head of long, curly hair and this baby heats up quick and delivers! It's my weekend warrior!
6. Defrizz Oil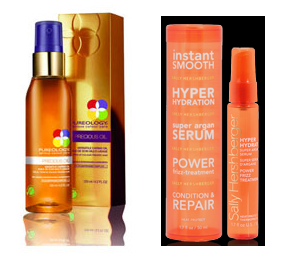 Pureology Precious Oil ($40) and Sally Herschberger Hyper Hydration Super Argan Serum ($15) – Now you may think two oils is overkill. And it probably is if I didn't have completely normal hair until the humidity comes out (then I'm a walking Monica from the TV show Friends in those island episodes —you know what the reference). Pureology's oil is perfect for anyone with colored hair. It's Green Seal certified and contains 100% biodegradable ingredients in a paraban, sulfate and silicone free formula. I was introduced to this product by Wendy Belanger, Pureology Global Artistic Director and owner of Influence Salon in Calgary, Canada,who described it with something for everyone: "Sunflower seed oil is great for softness and color protection, coconut oil helps with elasticity, olive oil gives shine, and jojoba oil imparts moisture." I like it because my ends need more moisture and shine since getting an ombre, it fights humidity and I even use a little extra to weigh down my hair intentionally to give my long tresses some definition in their wave without looking greasy.  Sally Herschberger's serum is great on dry hair and when my hair starts to frizz during the day. And unlike most oils it doesn't leave that oily residue on my hands after application. The results are instant and it removes the frizz and smoothes out my strays without weighing down my hair. I like to think of it as my touch-up oil.
7. Hair UV Protectant
Living Proof Restore Revitalizing Spray ($26)— I think of this as SPF for my hair! Complete with UV protectant to shelf my strands from sun and heat damage from my flat iron. It's super lightweight, making it an easy addition to my hair routine. Now if only Living Proof would just make it in travel size!
8. Lip Balm (with a little something something)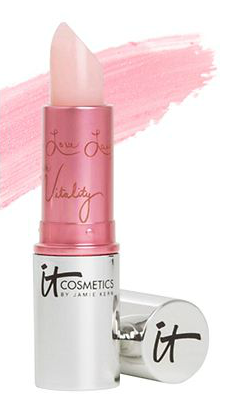 It Cosmetics Vitality Lip Flush 4-in-1 Reviver ($20)-  I use shade Je Ne Sais Quoi (which is a light pink), although I want to try the other shades (Love Story and Pretty Women). I'm fascinated by how something that doesn't have a tinted stick, miraculously stains my lips, does all the work of an anti-aging lip treatment and chapstick and is paraben-free! Packed with antioxidants, including vitamins A, C, and E, acai, green tea, and white tea and combining the anti-aging superpowers of plum oil, cherry oil, shea butter, aloe, and jojoba, these ingredients all work together to condition, and nourish lips, and keep them from looking and getting wrinkly. And it feels oh so good on!
9. Self-Tanner
Beautisol Face Self-Tanner Need I Glow More? ($23)- fake it until you make it! I may not be getting a sun tan, (and probably attacking you with my SPF spray) but that doesn't mean I don't want to come back from a beach filled weekend, looking like I did! Beautisol is the first to create a skin-type-specific face self-tanning lotion and I use it all the time and have never broken out or it looks freakishly natural. Anyone thats ever complimented me on my tan will attest that I say, "it's fake" with a little pride.
10. Cynthia Rowley Band-Aids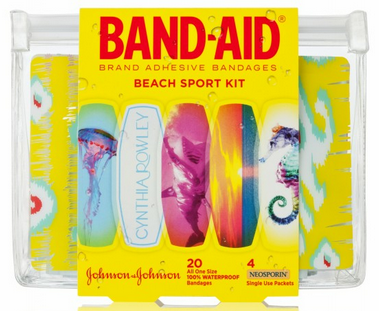 Cynthia Rowley for Band-Aid: Beach Sport Kit ($6.99) – While I have to admit the original collection of Cynthia Rowley for Band-Aid brand was my favorite, it wasn't nearly as summery and colorful as the duos latest collection. The designer recently collaborated with Band-Aid s on a vibrant beach-friendly set that includes 20 qty waterproof bandages, and 4 qty Neosporin single use packets, wrapped in a plastic resealable case to keep the sand out. Great for anyone on the go and in your beach bag just in case someone gets a boo-boo. If I owned a car, you would fine a set in my glove-compartment.
 Disclaimer: These products have been given to me over the years for post consideration. Most have already been featured and are now part of my list of must-haves. Pretty Connected was under no obligation to write this review.