Rebecca Taylor was true to her reputation for S/S 2012 offering feminine, wearable dresses and separates that move with the body. Unfortunately, iPhone's video capabilities and Fashion Week lighting are not a winning combination, but here's a quick peak at the finale of the show:
http://www.youtube.com/watch?v=zKHLSt1XrJ8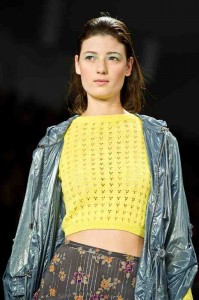 "Inspiration is so ephemeral," said Taylor, stating that she picked up her inspiration from a hodgepodge of places. Aiming to set a contemporary, fresh, and ethereal tone to the designs, the collection emphasizes cut and color with unexpected cut-outs in sibhouettes. This was reflected in her collection which mixed flowy materials and sparkly embellished tops, with some structured dark colored dresses. Also white, neon yellow, floral prints as well as a few dark black and blue pieces were thrown in, creating this disjointed palette. Although the collection lacks the drama and excitement of many runway shows, it is very wearable and I am sure the retails buyers were marking their favorites to display this Spring.
My two favorite looks from the collection included