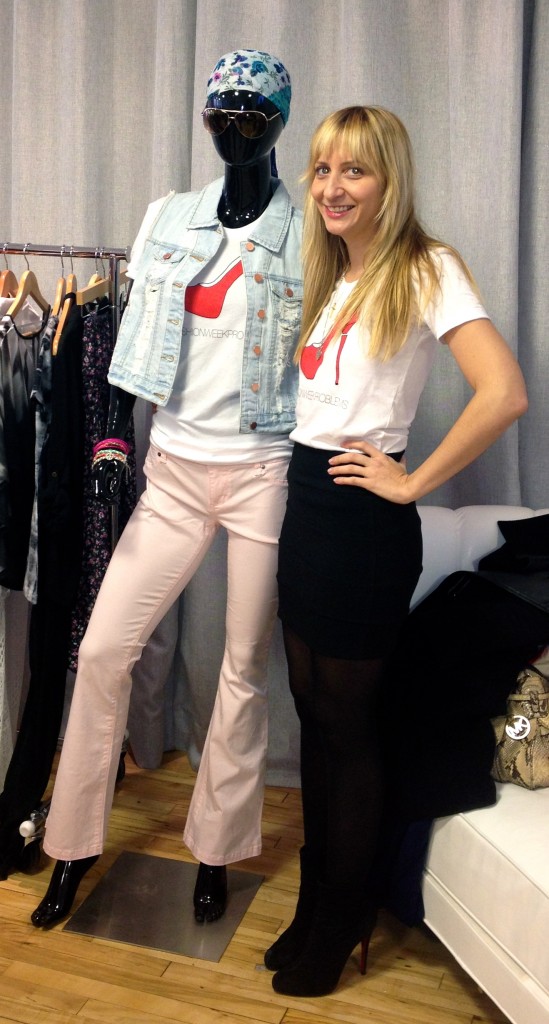 Kmart has become quite the fashionista! You may remember from last years New York Fashion Week seasons, Kmart developed a concierge program where elite fashion week goers could tweet them @kmartfashion, with their #fashionweekproblems (using that hashtag) and promptly be delivered a care package of solutions. We're talking mascara, chapstick, tights, hair elastics, Dr. Scholls flats! In the name of fashion emergencies, if there was a problem, Kmart had the solution! And did I mention it was free? And, yes considering how accident prone I am (or just plain forgetful), I took full advantage of their services.
Good news fellow fashion week friends, next week Kmart's concierge service returns for New York Fashion Week! And they have partnered with SOPHOMORE designer, Chrissie Miller to design a limited edition shirt that will be worn by the Kmart representative delivering your goodies. And although the shirt is not for sale, it will be offered as a gift with purchase (while supplies last) at SOPHOMORE's 143 Ludlow Street, location. I was lucky enough to snag a tee at the shirts unveiling event and peaked some of this years menu offerings for the concierge program; which included Emergen-C, Colgate Wisps, COVERGIRL mascara, FIGI water, Coconut water, elastics, bobby pins, chapstick and more.
Note to self: Don't forget to tweet my #fashionweekproblems to @kmartfashion.