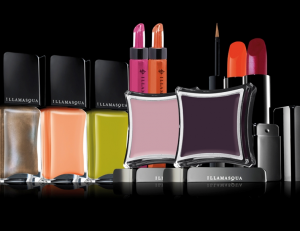 Since making a splash state side with an exclusive partnership with Sephora; the UK beauty line Illamasqua, known for it's dramatic looks and subversive inspiration, offers a wide variety of unique shades, professional finishes, and versatile application options.  After posting about the nail varnish, and loving it last month– I was excited to play with the rest of the color line.  Lucky for me the team was invited to meet with product development head David Horne and learn about the line, complete with make-up application.
Makeup artist, Kim Anderson took the lead and gave me a natural,  daytime shimmery look, focusing on my eyes for extra emphasis.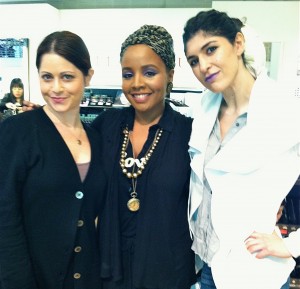 After using Satin Primer on my face and applying Rich Liquid Foundation, Kim went to work on my eyes using a mix of Powder Eye Shadow in Fatal and Cream Pigment Eye Shadow in Mould to create a look that was intense in color but muted in tone and finish. After succeeding in making my eyes intensely green by using a shadow with purple in it, she highlighted my cheeks with Cream Blusher in Rude (the brands top seller).
Sharing a few tricks of the trade (that I will be using from now on) she rubbed the heel of her hand in the cream blush and applied it to my cheeks, she then blended it with the opposite side of her hand creating a perfectly symmetrical look. I really like the Rude blush shade as it's so versatile and works on so many different skin