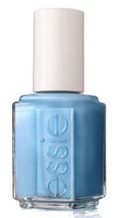 Nail polish powerhouse, Essie has teamed up with TOMS Shoes in support of the shoe brand's global campaign, One Day Without Shoes (April 5th), which helps raise awareness of the millions of children at risk for disease and infection as they grow up without shoes. As most of you TOMS Shoes as the do-gooder shoe company where for every pair purchased, a new pair is donated to a child in need of shoes.
How does going a day without shoes make a difference?

Through change! And it gives us just a very, very, very, microscopic taste of what children in developing countries go through barefoot for miles to go to school, get clean water and medical help.

Essie created a special limited edition nail color, in the signature