Part of why I started this 'Instead of' movement (@insteadofmovement) was to share tips on how to live a more sustainable life but in an approachable, fashionable, way. And also inspire brands to recognize they have choices when it comes to how they package their products and how they run their companies. For me Aveda embodies everything we're all about. Efficacious products, mindful packaging, giving back… and frankly they're cool.
Started in 1978 by one of my personal heroes and complete visionary Horst Rechelbacher with the vision to bring beauty professionals botanical products that would be good for them, their guests, and the Earth and its communities.
Aveda cares for the world we live in and sets an example for environmental leadership and responsibility. Antoinette Beenders, Aveda's Global Creative Director participated in our first ever 'Instead of' video shown above and shared some of Aveda's initiatives including their annual 'Trashion Show.'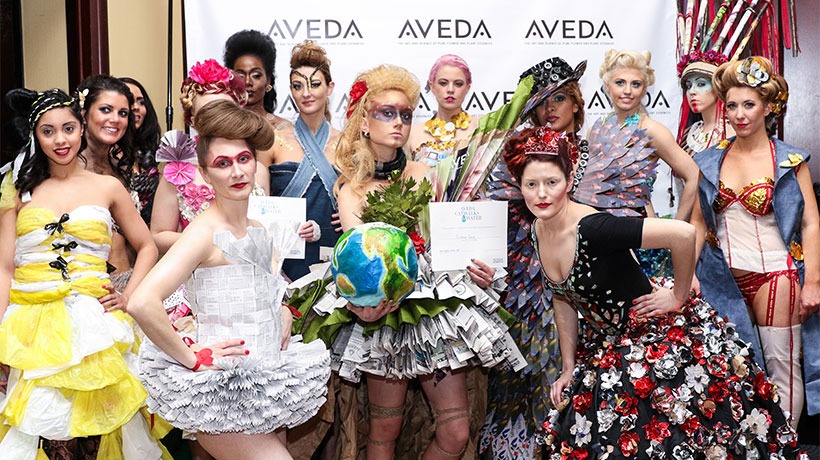 Giving back is very important to Aveda – over the last 20 years, they have raised over $60M during their annual Earth Month campaigns, which has been donated to various environmental and clean water initiatives.
Their commitment to providing clean water to all and all the amazing work they do makes them our heroes. Some other things you should know:
Aveda was born cruelty-free, never tested on animals
Aveda pioneered 100% post-consumer recycled packaging in the beauty industry and has won more than 20 awards for packaging innovations to date. They make every effort to avoid using virgin plastic and use 100% post-consumer recycled (PCR) material as much as they can. When they can't use it, they combine PCR with bioplastic – which is made of sugarcane and not detrimental to recycling systems.
Aveda is a 100% wind-powered product manufacturer and more than 83% of their waste is reused or recycled in their primary manufacturing facility.
Lastly they need a dog line! Their hair brushes are the only thing that work on Charlie!
Learn more at aveda.com