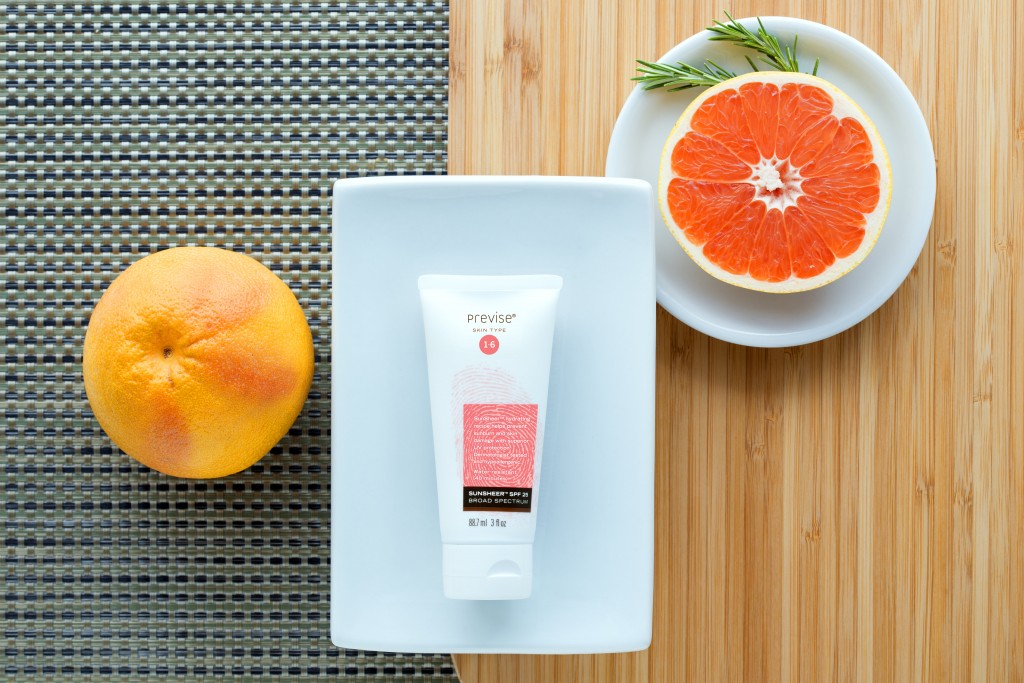 Spring is here, the sun is finally out and it's as imperative (as always) to wear SPF. If the greasiness and pore clogging connotations hold you back from daily application, stay away from sunscreen sprays and lotions with high concentrations of silicone, petroleum, synthesized oils and chemicals.
Previse skin care recently launched SunSheer™ ($36), a broad Spectrum, SPF 25, free of pore clogging and controversial ingredients.  The recipe contains a blend of micronized titanium and zinc oxide to effectively fight UVA and UVB radiation.  It will not irritate the skin or leave a greasy film!  I have been using SunSheer™ on my face every morning for almost 3 weeks now and as cheesy as it sounds my pores really are happier.  The application takes a second longer to rub in – especially around the hair line and eyebrows (it can be a little chalky if not worked in properly), but then dries non-greasy.  The aroma of pink grapefruit  (which historically has aromatherapeutic benefits helping bring a feeling of tranquility and calm) for me is simply a refreshing summery scent.
SunSheer™ is dermatologist tested and approved,  hypoallergenic and water resistant for up to 40 minutes post application.  It comes in two options, one with botanicals and cooling ingredients to help minimize inflammation, and one without. If you have sensitive skin you may want to opt for the original without the cooling sensation.
Like all Previse skincare products, SunSheer's ZeroSilcone™ recipe is free of PEG's, parabens, and petroleum.   Previse believes in maintaining freshness through small batches and harvesting only sustainable ingredients that do not clog your skin or our waterways.
Previse is all about prevention, being proactive and being an advocate for your skin. SunSheer™ is a great compliment to other Previse products or your existing daily routine.
"By taking an active roll in the health and fitness of our bodies largest organ, we are preventing the unwanted signs of aging and reducing the risk of skin problems including skin cancer," says Sean, founder + CEO.
For more on Previse products and SunSheer™ visit previsecare.com