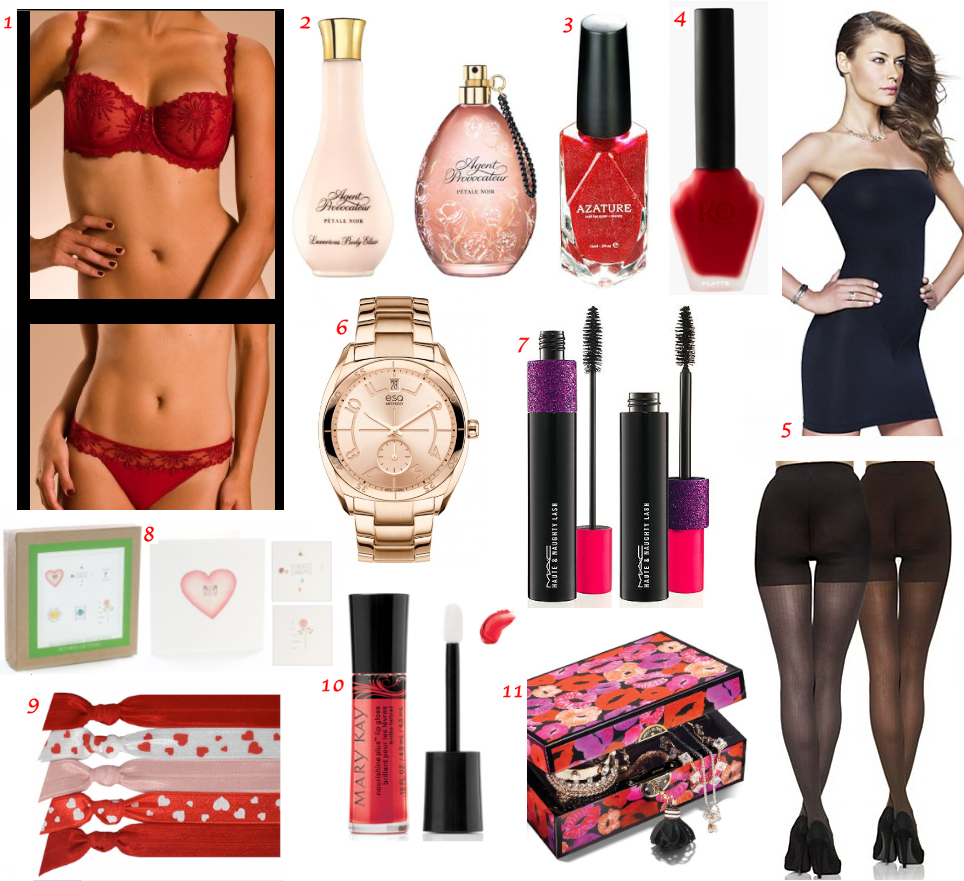 1. Chantelle – Vendome Demi Bra + matching Vendome Tanga bottoms – love this set because it supports and flatters us larger chested ladies, and still manages to look so sexy and youthful.
2. Agent Provocateur Petale Noir fragrance + Luxurious Body Elixir – just in time for Valentine's Day (literally it launches on the 14th at Nordstrom), the authorities in sexy, Agent Provocateur launched a new fragrance which ignites rose with bergamot, neroli, sandalwood, and leather rounding out the scent.
3. AZATURE Black Diamond Collection Nail Polish – Nicknamed the Black Diamond King, Azature has released a collection of dazzling nail polishes containing real black diamond in the formula. However, unlike it's more expensive $250,000 counterpart (which contains 267 carats The red is so pretty and sparkly (think Dorothy's ruby slippers on your nails).
4. Knock Out Nail Polish in Karen (Red) – With a frosted bottle and gorgeous long wand (I confess I love the packaging as much as the long lasting, no-shine formula), this nail polish is so super matte — or as they say it's so matte, it's flatte. So if you're not into sparkles or gloss and want more of a rocker look, get this color!
5. MAIDENFORM Control It! Shiny Strapless Full Slip ($44 on sale $26) and 2-Pack Opaguq Ribbed Skinny Tights ($20) – I swear Maidenform has the best shapewear at very affordable prices. The Control It! sucks everything in and create a smooth line — what else can you ask for? The tights bave a built in panty and shaping panels that flattens the stomach and lifts rear.
6. ESQ Movado ORIGIN Rose Gold plated stainless steel bracelet watch – it's so chic, and looks great alone or enhanced with bracelets. (You can do some serious arm candy looks with this beauty.)
7. MAC Haute & Naughty Lash Mascara – It's the coolest! It's literally two mascara's in one! One wiper refines the application for a clean sweep, while the other loads the lashes for great impact. This two-in-one mascara is an innovative way to customize your lashes and it's state-of-the-art conditioning and hydrating formula prevents parching and flake-outs.
8. BRIKA Values Boxed Cards – BRIKA is a super cute online store that has great giftables across category (home, jewelry, accessories, kids, and paper goods). I fell in love with these cards — and while they aren't labeled Valentine's Day, they still work within the theme of love and are so sweet!
9. Emi-Jay Hair Ties – Available in wide variety of fun colors and prints (scope these Valentine's Day heart patterns). I'm always putting my hair up and then down so I appreciate that these ties can comfortably be worn as bracelets (and don't cut off your circulation like regular elastics). Made with soft and stretchy material (and made in the USA) they offer comfortable hold that doesn't pull or break your hair.
10. Mary Kay NouriShine Plus Lip Gloss in Rock 'n' Red ($15) – I got this in a gift bag it hasn't left my makeup bag since. The gloss goes on smooth, and it isn't sticky or heavy. Best part it packs a great amount of pigment. and is a gorgeous tone of red. I LOVE it.
11. Henri Bendel Sealed with a Kiss Jewelry Box – My boyfriend knows anything Bendel's is on my list including this lacquered two-tiered, multi-compartment jewelry box (and preferably it gets filled with jewelry from there). A girl can dream…
Otherwise you can never go wrong with a bottle of wine, flowers and taking us to a nice dinner (and a piece of jewelry!). We're all romantics at heart. I hope you have a lovely Valentine's Day!
Disclaimer: Many of these products have been gifted or included in gift bags for Lara/Pretty Connected. Pretty Connected was under no obligation to write this post, and did not paid we receive any financial compensation.