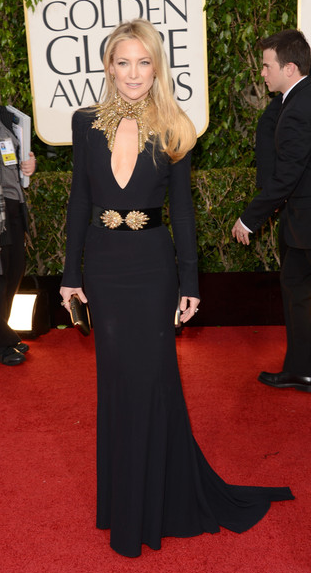 Kate Hudson looked flawless at the 70th Annual Golden Globes. The star paired a soft blowout with a nude makeup look to compliment the black Alexander McQueen gown and gold Jennifer Meyer earrings and ring.
According to celebrity hairstylist David Babaii, "I wanted to show off Kate's healthy, shiny hair in a style that emphasizes her true Hollywood beauty. As the perfect 'Muse' and my inspiration, Kate is my generation's Brigitte Bardot showing off soft voluptuous hair that is touchable, glamorous and now Kate's very own signature look."
David used IT&LY HAIRFASHION'S Purity Design Line that gives a natural, long-lasting hold which is perfect for beautiful results.
HOW TO:
1.       Start with IT&LY's Pure Water Drops Serum before blow drying.
2.       Next, add IT&LY's Pure Style Mousse Strong and used a medium round brush at the root area to add volume then switching to a large round brush to smooth and create soft rounded edges.
3.       After drying, create a natural side part by spritzing IT&LY's Pure Volumizing Eco at the base for added lift and down the shaft for more piecey definition.
4.       To get Kate's sexy fringe, wrap the bang area around a medium round brush spraying a small amount of IT&LY's Pure Volumizing Eco again.
5. With the blow dryer temperature on high, direct heat on the brush followed by a quick blast of cool air to set.
6. Gently remove the brush to release the fringe. And with your fingers comb through and allow the hair to fall naturally into place.
7. To finish, mist your hair with IT&LY Pure Definition Hair Spray for soft touchable hair with memory hold.