Pamela Pekerman is a style expert, host, TV personality, and soon-to-be mom! She throws regular events in NYC introducing guests (myself included) to a plethora of brands spanning beauty, fitness/health, style and lifestyle products and is a true tastemaker in the world of fashion —- can you tell I'm a fan?  So I asked Pamela for her must-haves for the season and here's what made her list:
Jill Zarin Facets Ring ($58)– cocktail rings make a big statement and this one talks from all sides. I love how sleek and modern the shape is, with just a hint of crystals. Best of all in December 35% of the purchase price goes to the Ilya Peckerman Fund Vasculitis Foundation, which raises money for research grants to find a cure for these rare, autoimmune diseases. www.jillzarinjewelry.com/
Pinch Provision kits ($15) – adorably compact kits because you never know when you'll need hairspray, double sided sticky tape or clear nail polish. A savvy gal is always ready to shine, no excuses. I'd like someone to get me the Labor Delivery Kit. http://shop.pinchprovisions.com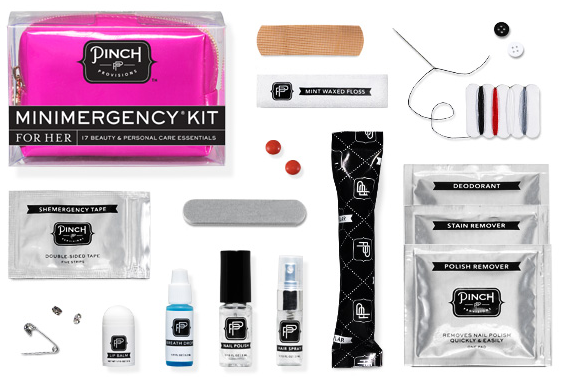 LAGOS Jewelry macramé bracelets ($150) – they are fun to stack and made with much more care and style than most of the macramé jewelry on the market. This is a great gift for all my girlfriends. Each one can have her own color. http://www.lagos.com/
Bindya cashmere/silk scarf ($135) – they feel amazingly, luxurious again your skin. Plus, scarves are so versatile. I love to wear them around my neck, draped over the shoulder, looped I front through a belt, or accenting the handle of my bag. http://www.chictweak.com/
Burberry Brit Rabbit Fur Vest – what can I say, I'm Russian. We love our fur. The right vest will never go out of style and transition from work to weekend (some even for weddings) seamlessly. For faux options, I keep the budget way under $100! Designers charging more are out of their minds because you can get real fur under $150 at off-price retailers or end-of-season sales at big box retailers like Saks and Bloomingdales. http://www1.bloomingdales.com
Grace Carter Shoe Covers – if you have someone on your list that loves her stilettos and can't even think of putting her tootsies in rain boots, this is a must-buy. I hate the phrase "must-buy", so trust me when I say THESE are a must-buy! The quality is amazing and the reaction when you slip them off is priceless. http://www.gracecarter.com/
Pamela Pekerman lives in New York with her husband, an extensive shoe/bag closet and a pending-to-be-designed baby room. Her personal motto is that looking good makes you feel good, so despite her increasing belly and hectic schedule, she always puts her best face and heel forward. Follow her on Twitter @PamelaPekerman and keep up to day with her musing on style, pregnancy and entrepreneurship at http://pamelapekerman.blogspot.com/.