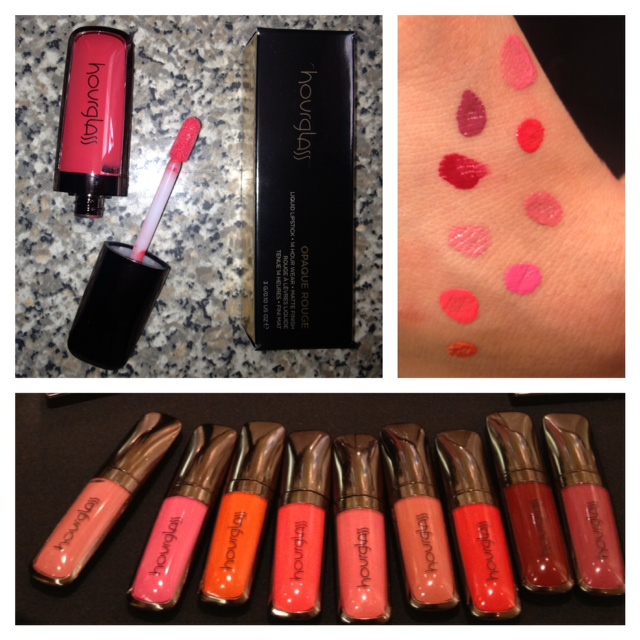 Hourglass Cosmetics has launched their latest lip range, Opaque Rouge Liquid Lipstick. The applicator and packaging resemble a lip gloss, but the finish is undoubtedly a highly pigmented, full coverage, matte finish lipstick. It's incredibly long lasting (although it claims 14 hours and I like to reapply after about 5-8h hours), and best of all it doesn't budge! You can drink your coffee and salvage your lipstick! It probably one of the least messy lipsticks I own.
The formula is infused with skin-conditioning emollients, antioxidant fruit extracts and Vitamins A, C and E to help protect the lips. It goes on smooth, however, my lips are on the drier side so throughout the day my lines start to show (and I can't apply too much or it gets slightly chalky). If you're lips are perfect and hydrated you won't have this problem. My other suggestion for us dry-lip folks is exfoliating your lips the night before and using a balm so the next morning (once you've cleansed your face/lips) you're applying it to a clean, smooth surface. If you're going to use a chapstick or lipgloss over to change the finish or add moisture, wait a minute after applying Opaque Rouge for it to set in.
Opaque Rouge Liquid Lipstick is available in 9 shades, Ballet (vibrant pink), Canvas (dusty rose), Edition (soft pink), Empress (aubergine), Icon (cherry red), Muse (coral), Rose (medium rose), Raven (orange red), and Riviera (tangerine) and retails for $28.
Learn more at Sephora.com