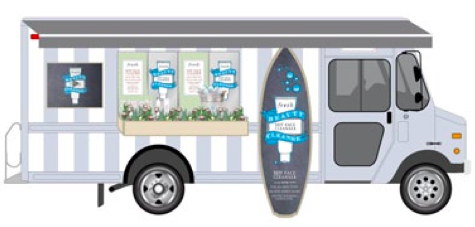 Today, Fresh® is kicking off of their summer beauty cleanse with a pop-up truck perusing the city streets from now until tomorrow! The campaign features the Soy Face Cleanser which boasts to remove dirt and makeup without ridding the skin of the moisture it needs to be soft and glowing. Fresh® is partnering with juice cleanse masters BluePrint and will be offering a Fresh® Beauty Cleanse Kit that includes the Soy Face Cleanser, BluePrint Cleanse Spicy Lemonade, and a card for a free mini Sugar Lip Treatment Advanced Therapy! 
THE FRESH BEAUTY CLEANSE TRUCK SCHEDULE:
If you're not in New York or you're just not able to brave the heat and make it out, you can still get involved by going to the Fresh® Facebook page and share what you are cleansing from! Upload a photo that represents your personal cleanse, and you have a chance to win a $1,000 Fresh shopping spree. The Fresh® Beauty Cleanse Contest runs from July 25nd to August 8th. Fans can entry daily, and the participant with the most "likes" wins.
For more updates on the Fresh® Beauty Cleanse Truck, Facebook Contest, and other campaign news, follow Fresh® on Twitter @FreshFounder and Facebook at facebook.com/fresh