All abord the The Skin Cancer Foundation's Road to Healthy Skin Tour bus!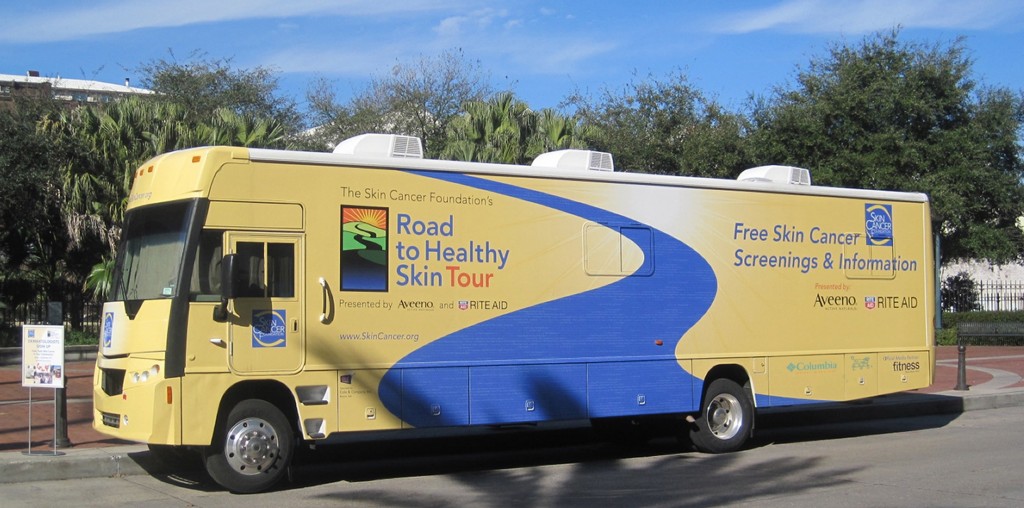 For the fifth year in a row, The Skin Care Foundation's Road to Healthy Skin Tour, presented by Aveeno and RITE AID returns to provide skin cancer screenings. Traveling in a 38-ft RV bus across the country for six consecutive months a team of local volunteer dermatologists are at your service to provide FREE full-body skin cancer screenings. With nearly 20 new cities being added to this years 2012 tour, the bus will make 85 stops through September 22nd.  For the complete Tour schedule, visit Facebook.com/Aveeno or http://www.SkinCancer.org/Tour.
"The Tour was created to help detect skin cancers early so they can be easily and effectively treated," said Perry Robins, MD, President, The Skin Cancer Foundation. "We also hope to raise awareness and educate the public about the importance of sun protection, while encouraging people to see their dermatologist once a year, as well as perform self-exams once a month."
How It Works
At each stop, people can visit the RV to receive a quick, easy and potentially life-saving full-body skin cancer screening. Local dermatologists who have donated their time and services to the Foundation conduct the screenings. The patient is given a brief form to fill out and then shown to one of the RV's two private exam rooms. The dermatologist returns and examines the patient's skin from head to toe. The doctor will then note the findings on the form and make recommendations for next steps, including a biopsy if necessary.
The exam takes approximately ten minutes, and participants are advised to arrive to the screenings early, as the screenings are provided on a first-come, first served basis. Educational materials that explain how to perform monthly skin checks at home and the proper ways to protect the skin from the sun on a daily basis are provided to Tour participants, along with sunscreen samples and giveaways.
So, visit Facebook.com/Aveeno, get screened and don't forget to wear SPF everyday!