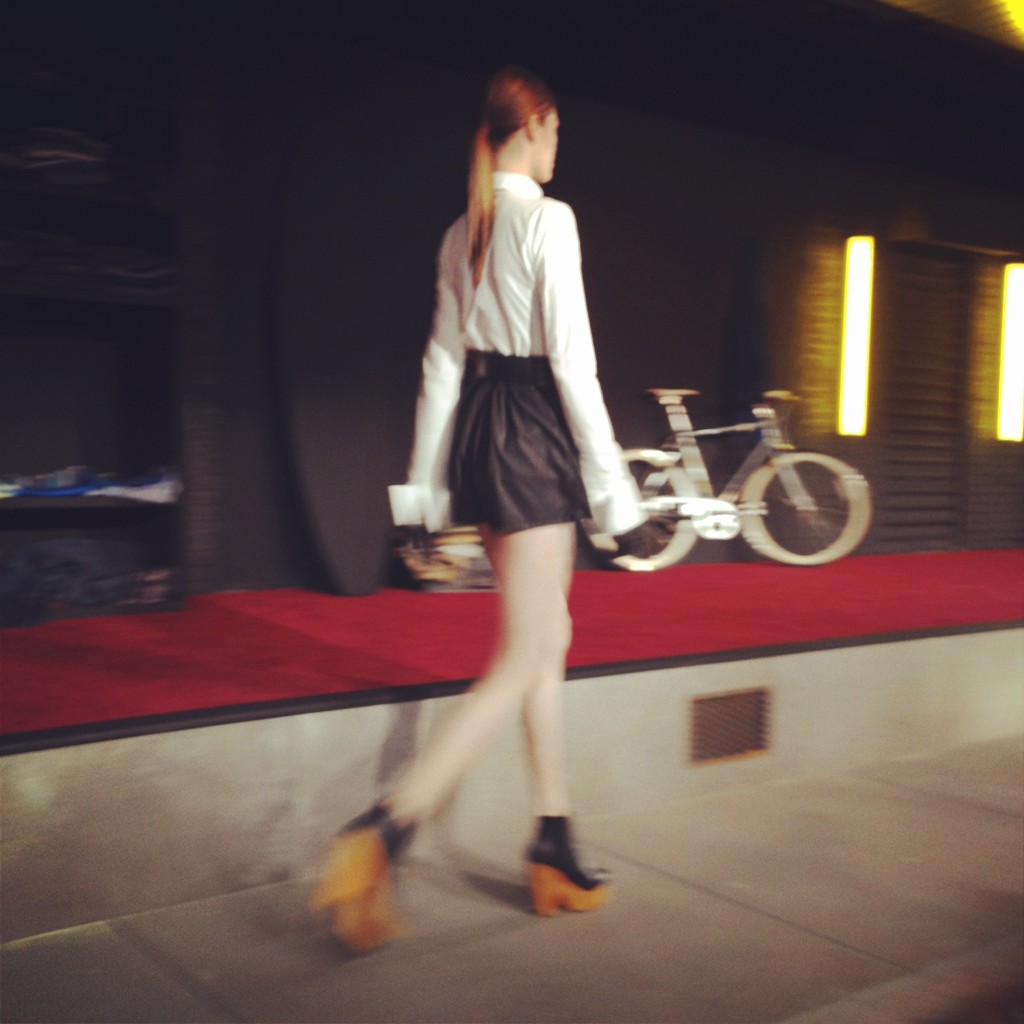 One of highlights of last month was making it to Levi's first ever global collection during New York Fashion Week. The event started with an art installation and then runway presentation where the brand showcased the key looks from its Fall/Winter 2012 collection.
Inspired by the ritual of getting dressed, the models did just that — dressed! While some models we're busy putting on their clothes on stage, others we're already dressed and walking down the cat walk. Mixing both men's and women's together, one model even added a bicycle to his morning routine and biked down the runway. Visually, one of the best produced and coolest shows I have been to; although with models coming out in all different directions was a little distracting in not knowing which direction to focus on.
http://www.youtube.com/watch?v=_yKsQRzZrsw&list=UU9BX-x1D-YtJhGoX2vY1TVQ&index=3&feature=plcp
Much like the aesthetic for the whole presentation, the pieces we're very well styled and accessorized. The evolution of Levi's beyond blue denim was apparent in their tailored jackets, pops of leather pieces, series of dresses and extended color range of men's pants.  The shoes stole the show.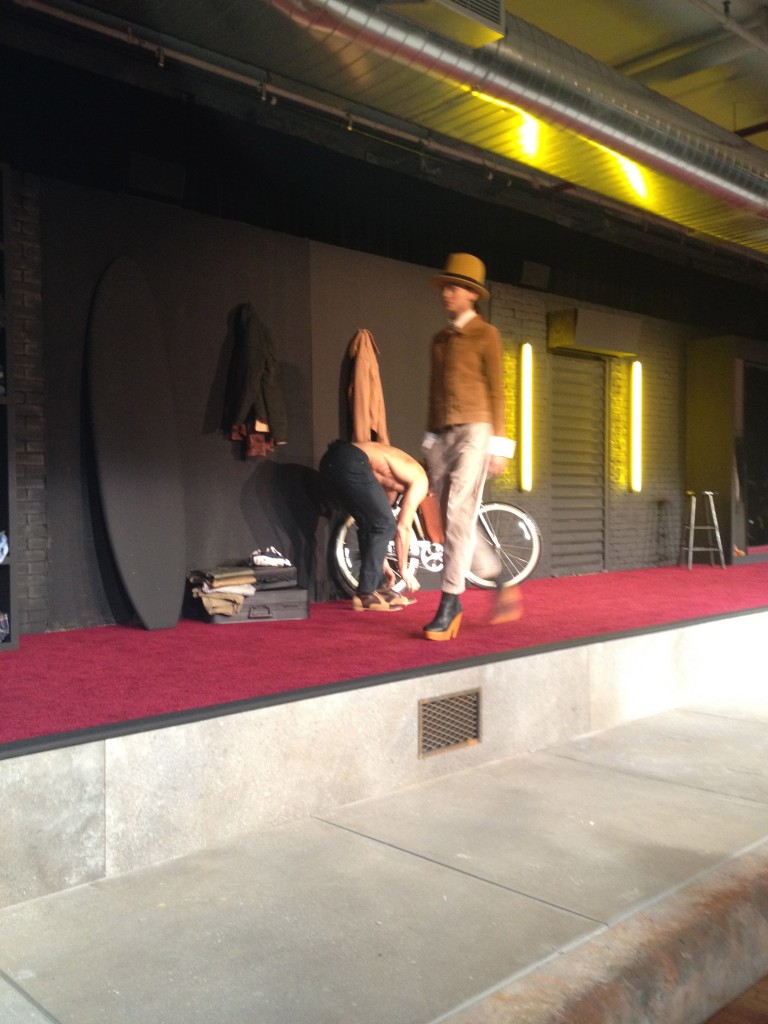 "Levi's® has always been about embracing the energy and events of our time. Today, fashion is more democratic and accessible than ever, making New York Fashion Week the perfect moment in time for the Levi's® brand to launch our first global collection," said Len Peltier, Global Vice President of Creative Direction.
It was a solid collection based on a more refined and tailored look, for both men (which featured a tapered and slim leg) and women (a redefined bootcut skinny pant). The designs were inspired by the idea of craftsmanship, honesty and authenticity – honoring tradition while defying convention, redefining the norm and re-crafting and re-creating iconic Levi's® styles. For men the key look was was a slouchy on the top and has a slim tailored leg.
The show concluded with a live banjo performance. They thought of everything.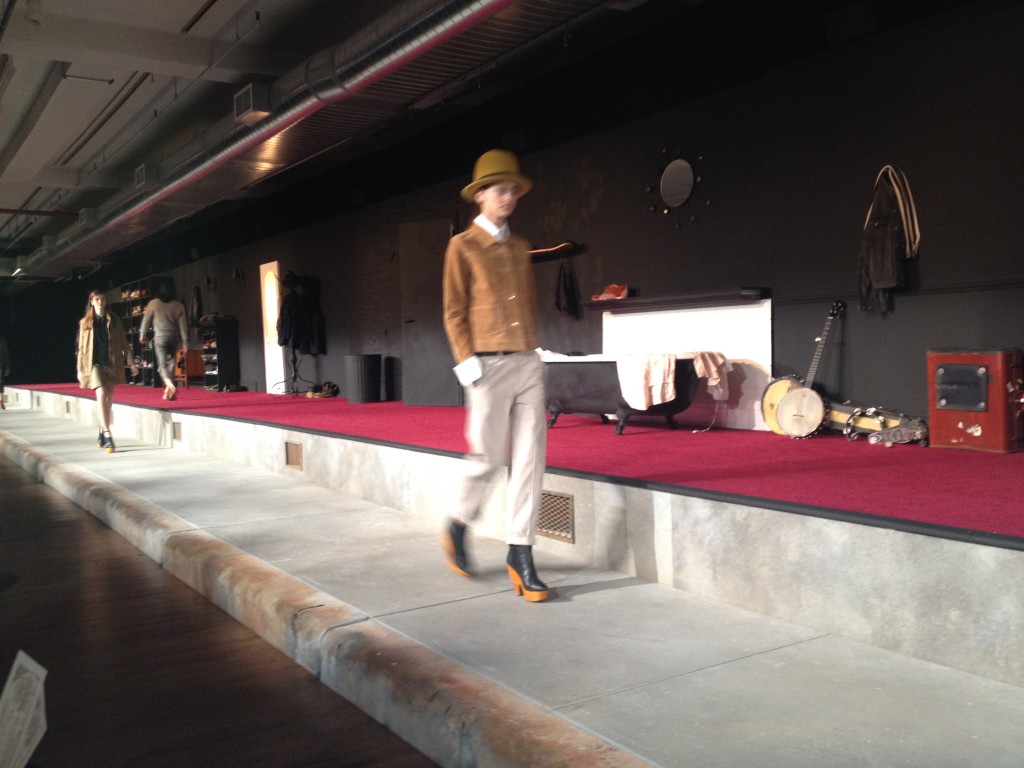 {Levi's art installation}