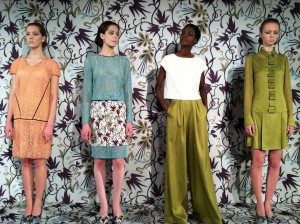 The room was buzzing as the grand piano played at the presentation for NAHM, the line of Alexandra Hilfiger (daughter of you know who) and Nary Manivong.  In it's second season the duo presented a collection of boxy dresses with drop waist skirts, delicate blouses with ruffle trim, skirts with varying hemlines, in modern, youthful cuts.
Looking to the past, the duo took their inspiration from the 20's and ancient Egypt. It was a strong showing and I loved the hieroglyphic print dresses, featuring tiny ancient Egyptians engaging in very modern activities: trimming hedges with giant shears, toting shopping bags, cruising on skateboards. The shoes, contrast platforms in coordinating prints, and black suede, were a great addition to the look.
Vintage-centic NAHM featured a "Sugared Neutral" nail with pink undertones. This color was custom blended by CND's Angi Wingle, but can be recreated at home by layering CND Colour in Desert Suede with one coat of CND Colour in Marshmallow Rose, topped with CND Super Matte Top Coat. Strong nude nails looked flawless with minty green wingtipped eyes by MAC and glamorous '20s 'dos by Aveda amidst punchy plum and eclectic green patterned fabrics.