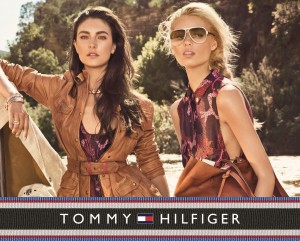 Good morning NYC! Today, we wake up to Mercedes-Benz Fashion Week. I for one, have a full itinerary of shows and events that I can't wait to experience and share with you all; but first thing first — I need to pick up my press pass! I'll be running around for the next two weeks and in case I get slow on updating my site, be sure to follow me on twitter @prettyconnected, for a whole-latta quick updates.
For all you big rollers and American Express holders dying to get in on the action, you're in luck!  Amex, which is in it's 10th season of sponsoring Mercedes-Benz Fashion Week, is continuing their partnership with some of the industry's biggest names to put on a series of fashion events and experiences exclusively for their Cardmembers.
"At American Express, we're continuing to evolve our fashion portfolio season after season to give Cardmembers a unique twist on fashionable experiences," said Walter Frye, Director of Global Sponsorship Marketing, American Express. "Whether it be uptown at Mercedes-Benz Fashion Week or downtown at MADE, we look to connect our Cardmembers directly with industry insiders while showcasing our longstanding commitment to the craft and providing the premium service they have come to expect."
This season, Amex will be joining Tommy Hilfiger in presenting a one-of-a-kind Spring 2012 runway show featuring the Hilfigers on Thursday, February 16 at 6:30PM. For the first time ever, the designer's fashionably fictitious family will grace the catwalk. Cardmembers can visit americanexpress.com/entertainment to purchase tickets for this oh-so unique experience.
In addition this season, Amex is back with their member's Skybox space, which overlooks the runways at Lincoln Center offering Cardmembers access to the week's most exciting shows from the comfort of their plush VIP lounge. Hosted by former Vogue Associate Publisher Lottie Oakley, Cardmembers will enjoy intimate moments with fashion's elite as they gain industry insights from this private space.
And because there's tons of excitement happening outside of Lincoln Center, Cardmembers will once again take downtown fashion to new heights with insider access to some of MADE's hottest designers including Peter Som, Jeremy Scott and Simon Spurr. Cardmembers will get an intimate look into the creative process through designer meet-and-greets and beauty styling sessions.
Lastly I'd like to give American Express a HUGE shootout for their support of emerging designers with their whooping $250,000 donation to the CFDA/Vogue Fashion Fund (CVFF), a program of the Council of Fashion Designers of America (CFDA). All proceeds from the sale of Skybox packages will go towards the American Express donation. In addition, American Express is proud to showcase its support of IMPACT: 50 Years of the CFDA—  an ode to the illustrious designs of the CFDA's many members which will mark the organization's fiftieth anniversary in 2012.
To learn more about American Express' special access to the world of fashion and other exciting entertainment offers, follow @AmericanExpress on Twitter or become a fan of American Express on Facebook.