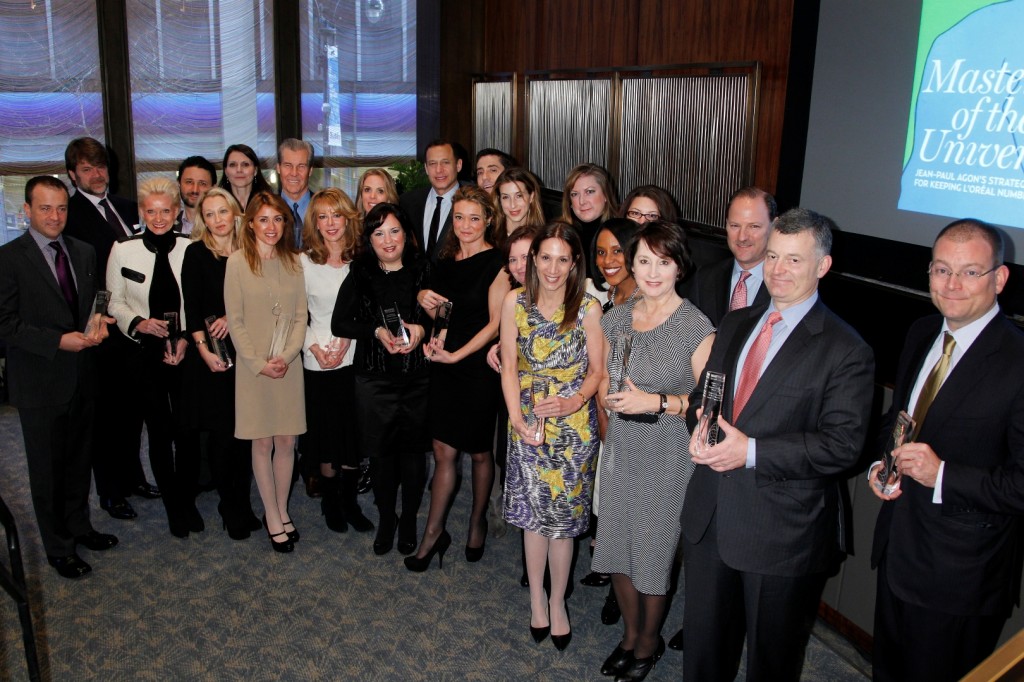 This morning, I had the great honor of joining Beauty Inc, a Women's Wear Daily special-issue magazine as they announced their 2011 Beauty Inc Awards winners. WWD/Beauty Inc are the beauty industries bible, so to be in a room full of executives that regularly fill their headlines and are the talent behind the leading mass and prestige beauty industry is as you can imagine, a beauty bloggers dream. I was surrounded by greatness… literally! Seated in the Oscar de la Renta section, I sat next to Alexander Bolen, CEO of Oscar de la Renta and now Beauty Inc Awards winner for the Newcomer of the Year Award. And besides being a rising icon of this industry, he was also an incredibly gracious and lovely neighbor. Also at the brands table, was ever so chic, Erika Bearman, known to 96,445 of us who follow her on twitter as @OscarPRGirl. I hope she tweeted a picture of her outfit, it was gorgeous — back buttoned sweater paired with a long off-white skirt. And however she did her hair, I want a tutorial!
Highlights from the awards ceremony included a special tribute to Evelyn Lauder, for her commitment to this industry and courageous work in raising awareness and funds (over $350 million!) in the fight against bread cancer.  Appropriately, even with her passing this year, she and the Estee Lauder Companies were awarded the Corporate Social Responsibility' Award, which was accepted by her son on her behalf. Beauty Inc. did a lovely piece on her this morning titled The Incomparable Evelyn Lauder consisting of quotes from those closest to her, sharing their most enduring memories.
Sir Lindsay Owen-Jones, gave an inspirational video speech after being awarded the Visionary Award, sharing memories from his trial and tribulations in the beauty industry. "If your going to be a visionary you need to start from the ground up. There are no short cuts", this from the man that began his career in the industry at the age of 23 and now reigns as the Honorary Chairman of L'Oreal. To learn more about the man, who graces the cover of tomorrow's issue of Beauty Inc visit WWD.com.
I'll admit, I haven't tried many of the winning products, however two awards I can absolutely vouch for are Bumble and Bumble's Straight line — it could be my favorite shampoo, conditioner and straightening balm of all time and Sally Hansen Complete Salon 5 in 1 Manicure nail polish — it's easy to apply, has great coverage and is exceptionally convenient. I'm also very partial to Dior Addict Lipstick, the color range they've developed is to die for and the formulation is very smooth and hydrating.
And without further adieu, the winner are:
• Visionary Award – Sir Lindsay Owen-Jones, Honorary Chairman, L'Oreal
• Corporate Social Responsibility Award – Evelyn Lauder & The Estee Lauder Companies. Inc.
• Creative Influencer Award – Peter Philips, Global Creative Director for Makeup, Chanel
• Eco Awareness Award – Pantene Nature Fusion
• Ad Campaign of the Year –
Prestige – Paco Rabanne Black XS
Mass – John Frieda Precision Foam Colour
• Newcomer of the Y ear –
Prestige – Alexander Bolen, Chief Executive Officer, Oscar de la Renta
Mass – Julia Goldin, Executive Vice President, Global Chief Marketing Officer, Revlon
• Product of the Y ear –
Prestige – Color Cosmetics – Dior Addict Lipstick
Skin Care – Lancôme Visionnaire Advanced Skin Corrector
Hair Care – Bumble and Bumble The Straight Line
Fragrance – Justin Bieber's Someday
Mass – Color Cosmetics – Sally Hansen Complete Salon Manicure
            Skin Care – Physicians Formula Skin Care
Hair Care – Clairol Nice 'N Easy Color Blend Foam
Fragrance – Avon – Outspoken Intense by Fergie
• Brand of the Year –
Prestige – Estee Lauder
Mass – Maybelline New York
• Launch of the Year –
Prestige – Tom Ford Beauty
Mass – Nuance Salma Hayek
• Retailers of the Year –
Prestige – Macy's
Mass – Duane Reade o Specialty–Sephora
• Digital Innovator of the Year –
Prestige – Birchbox
Mass – Neutrogena
Read more about the 2011 Beauty Inc Awards at www.wwd.com/beauty-industry-news